True-Mass Review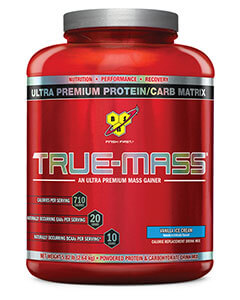 In order to grow massive muscles, there has to be something to make those muscles from.
After all, muscles aren't just going to spring out of thin air. This is why protein powders such as BSN True Mass have become such an indispensable part of the bulking up process.
True-Mass is promoted as the "ultra-premium lean mass gainer," winning the Weight Gainer of the Year Award from bodybuilding.com back in 2010. Thousands of consumers rave about their muscle building success with this product, and with its affordable price, it's easy to see why so many are drawn to the advertisements.
Consequently, I decided to take a closer look at True-Mass by BSN to see if it could make the cut when compared to top-rated products like Syntha-6. Is it really an effective meal-replacement for building muscle?
True-Mass Ingredients
After looking at the ingredients in True-Mass, I saw right off the bat that BSN included the highest quality blend of nutrients: several proteins (whey, in all of its forms, along with casein), raw amino acids, complex carbs and a vitamin & mineral blend.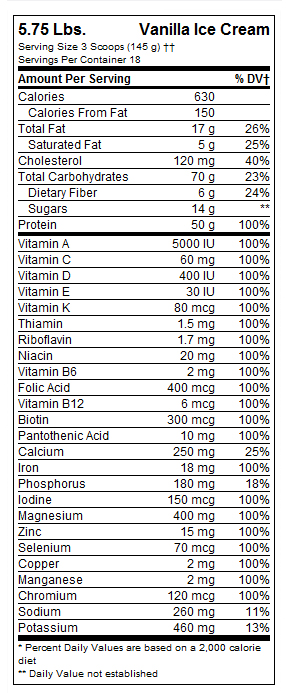 This complex blend favors carbohydrates slightly, but provides a necessary energy-to-protein ratio perfect for muscle growth. There are some fillers, but these help hold the nutrients together and promote a time release formula.
Each serving of True-Mass contains at least 48g of protein which is nearly 100% of the protein needed for the average male, and at least more than half for anyone who is looking to increase their body's production of lean muscle tissue.
Though the total calorie per serving is a little high for dieters (over 600), it offers a great mix of essential nutrients so you can maintain optimum health and physical performance. If you're looking to gain weight, the high calorie content and the high-quality protein seem to be a good option.
Evan Wilson, a True-Mass consumer, wrote, "This definitely one of the better weight gainers available today, not full of empty calories but actually has some good quality nutrients along with a ton of protein and complex carbs."
What About Safety?
Unless you're allergic to milk or soy then safety should not be a problem if you use True-Mass correctly. The ingredients are considered safe for use, though if you take more than the recommended amount of protein, you may experience symptoms of indigestion such as cramps, nausea, and constipation.
If you are currently taking any medication, you'll want to consult your doctor before making any drastic changes to your current exercise routine or dieting program. While True-Mass shouldn't react negatively to any medications, it's better to walk on the safe side and get the information you need from an expert who knows your medical history.
How to Use True-Mass
True-Mass, like so many other protein powders and supplements, is fairly easy to use. Simply mix 3 scoops with 16 oz. of cold water (or any beverage of your choice) and enjoy at your leisure. You can try varying the amount of liquid to achieve the consistency you desire, but 2-4 servings is more than enough to satisfy your protein needs.
Most consumers report that they prefer to mix True-Mass with milk to enhance the taste and give it more of a milkshake-like quality.
Additionally, you'll want to follow a healthy dieting and exercising program while using True-Mass; otherwise, you may end up packing on pounds of fat rather than pounds of muscle.
What About the Taste?
When it comes to taste, True-Mass receives high marks. Available in various tasty flavors, True-Mass seems to combine well with other beverages without tasting chalky or gritty. Currently, the following flavors are available:
• Banana
• Chocolate Milkshake
• Cookies & Cream
• Strawberry Milkshake
• Vanilla Ice Cream
An anonymous user wrote, "I decided to buy the True-Mass and I was simply blown away by how amazing it tastes. I mix 3 scoops with 12 ounces of 2% milk and 2 ounces of water and it mixes really well without becoming too thick. It feels like I'm drinking a strawberry milkshake and the best part is that there is absolutely no after-taste!"
Product Pricing
True-Mass definitely offers some high quality ingredients, and a LOT of them – which is why it shouldn't be all that surprising to find out that it may be a little more expensive than your typical protein powder.
Fortunately, you can save money and find a product that fits within your budget by shopping around at various online stores. When I tried to buy True-Mass, I found the product listed for the following prices:
Bodybuilding.com: $43.98 per 5.75 lb. Bottle
Amazon.com: $45.87 per 5.75 lb. Bottle
BSNonline.net: $78.99 per 5.75 lb. bottle
If you order directly from the manufactures, you should be aware of their return policy. BSN online accepts returns for merchandise purchased directly from their website and dietary supplements must be unopened and in their original packaging. You have to return the product within 30 days of purchase in order to receive a refund for the product. It may take 2 billing cycles before the refund will appear on the statement, and there is an additional 15% re-stocking fee.
Not exactly the guarantee you were looking for? Double-check the store policies for various supplement sellers. Some sites offer great guarantees on all their products.
Does True-Mass Really Work?
One thing we noticed from the consumer reviews of this product is that most people say True-Mass is super-high quality and it gives the results deserving of a protein supplement made by BSN. The only complaint customers can have with Ture-Mass is that it is more pricey than other supplements.
However, these same people who have complained about the high price also mention that the benefits are well worth the out of pocket cost of True-Mass. In addition, you can also return True-Mass if you aren't satisfied with the product.
Overall, most consumers say that True-Mass is the perfect base for a stack of other workout & weightlifting supplements, or is great alone to increase muscle mass. And users can't stop raving about the great flavor!
I would definitely recommend trying True-Mass. It comes with proven ingredients, positive consumer reviews, and will definitely help you to bulk up at the gym and put on muscle mass.
If you are also interested in learning more about other top-rated protein powders and comparing them to find your ideal product, check out the official Syntha-6 website here.