Dymatize Elite Fusion 7 Review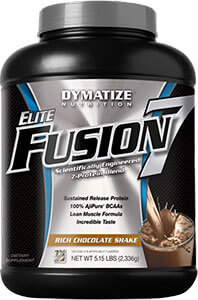 Elite Fusion 7 is a protein matrix that combines seven forms of protein (hence the name), elements like BCAA's, amino acids, vitamins and minerals.
Though other protein powders, such as Myotein, have held top positions for their formulas, Dymatize Elite Fusion 7 may present a good and presentable alternative.
We are pretty excited to review this mix and let you know our thoughts on it. The ingredients in this formula are fairly basic, nothing exceptional that we've seen so far–but sometimes simple is exceptional.
Will Elite Fusion 7 meet our standards?
Click Here to See Our Top Recommended Protein Powders
Dymatize Elite Fusion VII Ingredients
Elite Fusion 7 gets its name from the seven derivatives of protein it uses in this blend.
The concept of using so many forms of protein is that the body will absorb them at different rates, fully assimilating them into the system.
Many blends of protein are not fully absorbed into the system because the body can only accumulate and use so much protein at a time. For this reason, formulas often include different time lapses or forms of protein in order to give your body the capability of building muscle long after you stop lifting.
With forms of protein for quick synthesis, regular digestion, and slow absorption you are hitting upon all the different level of protein intake.
That's the theory anyway. There isn't much evidence of this approach always being effective. But like all supplements, different approaches will affect people differently.
Dymatize Elite Fusion VII uses three major components:
Amino-Acid Blend
There is a decent amount of essential and non-essential amino acids in this blend, which is an improvement upon many protein powders that leave them out in loo of other approaches to protein synthesis. But amino-acids are elemental for athletes, and regular folk alike. It's important to ingest them on a daily basis as they are involved in every process in the body.
Fiber
Elite Fusion 7 includes five grams of fiber in their matrix which is an improvement on other products of like quality. Fiber is important, particularly in protein digestion because protein can sometimes sit in the gut for long periods of time, fiber helps push it through and gives the consumer the feeling of being full.
Digestive Enzymes
We are super excited about the digestive enzymes in this mix! Digestive enzymes can assist the body in breaking down food, releasing nutrients from them and thus easily absorbing them into the body. Very great things to add to every meal, and the inclusion of them in this mix shows a lot of consideration from Dymatize.
Such a blend makes Dynamtize Elite Fusion an ideal meal replacement formula, and though it isn't perfect, many consumers report that it's a "solid all around meal replacement protein powder."
Safety Concerns and Risks
Dymatize Elite Fusion 7 is stimulant-free and does not contain any ingredients that should show up negatively on a drug test. In fact, the ingredients are safe to use (when used correctly) and many of the same ingredients can be found in other popular and effective muscle-building supplements.
The biggest concern you should have with Dymatize Elite Fusion 7 is the potential risk for an allergic reaction as it contains milk and soy. Some consumers have reported symptoms of nausea, upset stomach, and cramping, but they typically took too much protein for their individual needs or they failed to stay hydrated and follow through with a healthy diet and exercise program.
If you're thinking about using Dymatize Elite Fusion 7 as a meal replacement, you may want to consult your doctor for some advice about the product, just in case. Although it should not react negatively to any medications, it's better to be safe than sorry.
How to Use Dymatize Elite Fusion 7 Effectively
One of the great things about Dymatize Elite Fusion 7 is that it's designed with both men and women in mind (rather than just men) and that it can be used by professional athlete and weekend warrior alike. The amount of protein you consume throughout the day depends on your body weight and levels of physical activity, so feel free to adjust the dosage as needed.
Recommended Use for Men: Take 1-2 scoops (approximately 24-46 grams of protein) and combine it with 4-5 oz. of water (respectively), milk, or your favorite per scoop of powder. You can vary the amount of liquid to achieve the consistency you prefer, though if you'd like to enjoy a thicker shake, replace some of the liquid with ice. Drink 1-3 servings daily (or as needed) to satisfy your protein requirements. For added protein intake, mix powder with non-fat or low-fat milk.
Recommended Use for Women: Take 1 scoop (approximately 23 grams of protein) with 4-5 oz. of cold water or liquid of your choice. As with the recommended usage instructions for men, you can alter the amount of liquid in order to get the consistency you enjoy. Drink 1-3 servings daily (or as needed) in order to satisfy your daily protein requirements. If you need additional protein, combine with non-fat or low-fat milk.
Available Flavors
I have to admit, one of the first things I noticed about Dymatize Elite Fusion 7 is the sheer number of flavors available. If one flavor doesn't suit you, you can easily opt for a different one until you find a formula you like (there are smaller 10-servings sized bottles so you don't have to invest in a huge bottle).
Currently, Dymatize Elite Fusion 7 is available in the following flavors:
• Banana Smoothie
• Chocolate Peanut Butter
• Cookies & cream
• Creamy Vanilla Shake
• Mochaccino Rush
• Rich Chocolate Shake
• Strawberry Shake
• Milk Chocolate
As with so many other protein powders and supplements, though, the consumer reviews are fairly mixed.
Amy, a satisfied Dymatize Elite Fusion 7 user stated, "This protein powder is delicious! It tastes like a chocolate shake when you Put abOut 5 ice cubes in it. When i first received the large container i never thought kd finish it but now i have to reorder. Delicious!"
On the other hand, another consumer had the opposite opinion, "this protein as far as flavor the strawberry is strong. but it definately tastes gritty and leaves a bad after taste. ill never buy this kind of wlite again"
Product Pricing Information
If you're new to protein powders and are excited to try Dymatize Elite Fusion 7 for the first time, then you may want to invest in a smaller, 10-serving bottle available at Bodybuilding.com for $11.74. This way, if you don't like the taste or the results, then your losses won't be as great.
On the other hand, if you're confident that Dymatize Elite Fusion 7 is the right product for you, then buying in bulk is most cost-effective per ounce, saving you money in the long-run. After a bit of shopping around, I found that these sites offered a 2.91 lb. bottle for the following prices:
Bodybuilding.com: $30.99
Dymatize.com: $51.39
Amazon.com: $23.90
Dymatize currently does not offer a money-back guarantee for its products, so if you don't like your results, you'll want to find a seller that provides a guarantee for its products.
Conclusion
With the inclusion of vitamins and minerals along with other elements, we feel like this is a solid product. Though a bit pricey, Dymatize Elite Fusion 7 definitely has a lot to offer in regards to muscle building and improving physical performance. The positive consumer reviews are hard to beat, and the taste makes it worth further investigation.
On the other hand, Dymatize Elite Fusion 7 might not be the best solution for everyone. If you are more inclined to find a product that isn't as expensive and provides good results, we recommend looking into Myotein.