Elite Casein Review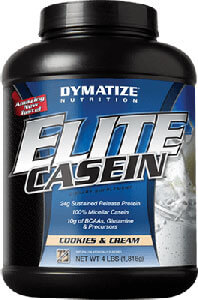 Dymatize Elite Casein protein is a popular bodybuilding supplement and consumers are raving about its abilities to maximize performance and stimulate muscle repair and growth.
This slow-digesting formula is advertised as a perfect way to keep your muscles fed throughout the night, so you don't have to sacrifice your hard-earned muscle gains. Manufacturers would have you believe that Elite Casein is a high-quality formula that will give your body the amino acids it needs to recover from an intense training session.
With so many consumers touting Dymatize Elite Casein as the perfect muscle-recovery supplement, I couldn't help but be a little interested in what it had to offer. Is it really as effective as everyone would have you believe?
What's Inside the Bottle?
When I first looked at the bottle, I couldn't help but be a little impressed. Only 120 calories per serving, with just 4 grams of carbs and no sugar? It's almost too good to be true.
Add a whopping 600 mg of calcium for protecting your bones, 220 mg of potassium for protecting the heart and kidney, and of course, 24 grams of casein protein, and you have yourself an ideal environment for building a stronger, healthier body.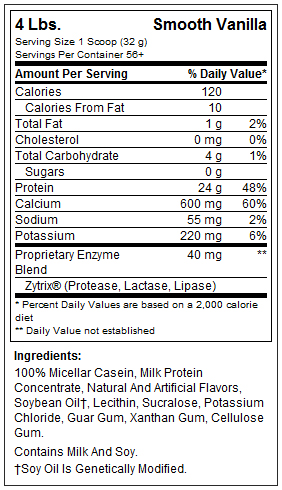 Micellar Casein: A slow-digesting protein, Miceller Casein protein makes a great aid for preserving lean muscle mass and keeping you full throughout the day. Micellar Casein forms a gelatinous substance in the stomach, resulting in an extended release of amino acids for muscle building and recovery.
Protease: A unique enzyme that stimulates protein catabolism.
Lactase: This enzyme improves the body's ability to digest milk sugar – making it easier for those with lactose intolerance to digest casein protein without the negative side effects.
Lipase: Another enzyme, this ingredient plays a crucial role in digestion as well as the transport and processing of dietary lipids.
Should You Be Concerned About Side Effects?
Unless you're allergic to milk, Casein protein should not result in any major side effects when taken correctly.
The most common side effect of casein protein is indigestion, constipation, and cramping, but these are typically the result of taking too much protein at one time, without using it in conjunction with a healthy diet and regular exercise.
Available Flavors
This protein supplement is available in the following flavors:
• Cinnamon Bun
• Cookies & Cream
• Rich Chocolate
• Smooth Vanilla
• Chocolate Peanut Butter
From what I've read of the consumer reviews, the flavors are delicious and satisfying.
According to one review, "I got the vanilla flavor and to my surprise, it was delicious. Most vanilla flavored protein tastes awful and like Chalk. but I truly enjoyed this one. It was very smooth, mixed very well, and tasted very well."
Is it Easy to Use?
Yes! Casein protein powder mixes well with water, milk, or any other liquid. Simply combine 1 scoop with 10-12 oz. of your favorite beverage.
Most experts recommend taking Casein protein first thing in the morning to keep you full throughout the day as well as immediately before to sustain you throughout the night. Of course, you can use casein protein any time at your convenience.
Is it Affordable?
Elite Casein is available in multiple sizes, so you can find a product that fits in your budget. Pricing will vary depending on where you shop online.
From what I found, Elite Casein was listed for the following prices:
BodyBuilding.com: $26.99 per 2 lb. and $46.74 per 4 lb. bottle
Dymatize.com: $47.59 per 2.18 lb. bottle
Amazon.com: $30.81 per 2 lb. bottle
GNC.com: $44.99 per 2 lb. Bottle
A1Supplements.com: $29.95 per 2 lb. Bottle
In order to save money, you might want to try ordering a small bottle of Elite Casein, just to see whether or not you like the flavor and the results. Then, if you're satisfied, order a larger bottle as buying in bulk is most cost-effective per ounce.
What if You Don't Like Your Results?
From what I could see, Dymatize.com does not offer a money-back guarantee on their products, but if you order from other websites, you may be able to get a full refund depending on the individual store policies.
Sites such as GNC.com offer a great 30 day guarantee on all their products, while other sites do not. Be sure to double-check what each store has to offer if you're hoping to get a return on a product.
If you have additional questions about the product, you can try contacting customer service via the following information:
Dymatize Nutrition
13737 N. Stemmons Fwy
Farmers Branch, TX 75234
Toll Free (888) 334-LEAN
Phone (972) 732-1990
Fax (972) 732-1771
Customer Service
Email: customerservice@dymatize.com
Is it A Good Choice?
Although Dymatize Elite Casein protein is not perfect and doesn't provide the same results for everyone, it's definitely a good option for those individuals looking for an affordable, great-tasting protein powder.
I have no problem recommending Elite Casein protein at this time.