IsoPure Mass Review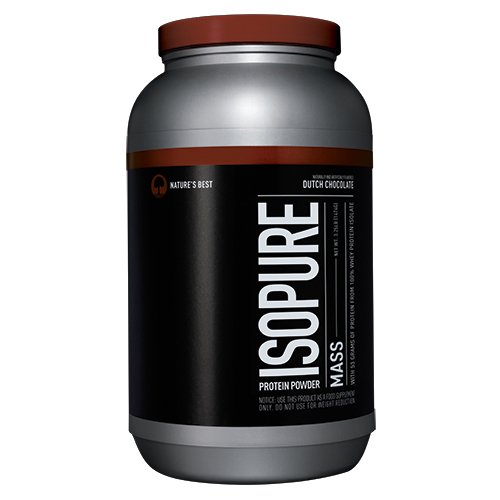 With more and more protein powders hitting the shelves, I sometimes feel as if each product is basically the same. Then there is IsoPure Mass. This lactose-free protein powder is genuinely different than others.
The biggest difference is that IsoPure Mass combines the muscle-building power of protein and carbohydrates. These ingredients have the potential to improve muscle growth and recovery, and provide you with plenty of energy.
So, will IsoPure Mass give you all the benefits of carbs and protein? Is it as effective as Myotein, the best protein powder of the year?
The IsoPure Mass Formula
A single serving (6 scoops) of IsoPure Mass has 158 grams of ingredients! In each serving you'll find…
• 600 calories
• 5 grams of fat
• 10 mg of cholesterol
• 86 grams of carbohydrates
• 3 grams of sugar
• 53 grams of protein
IsoPure Mass is also an excellent source of vitamins and minerals. Each servings has 50% of your Daily Value of vitamin C, riboflavin, niacin, folate, selenium, chromium; to name a few.
Most of the protein in IsoPure Mass comes from whey protein isolate and sodium caseinate. Although both of these proteins are derived from milk, neither of them has lactose. Whey protein isolate has had the lactose stripped out of it, which is why it's the purest form of protein available. You'll see it used in most high-quality protein powders; including Myotein.
Another excellent source of protein in IsoPure Mass is glutamine (4.6 grams), isoleucine (3465 mg), leucine (7865 mg), and valine (3080 mg). These have all been proven to promote muscle growth and preserve lean muscle mass.
Maltodextrin is the main source of carbohydrates in IsoPure Mass. It's a complex carb, but because of weak bonds, it breaks down quickly into sugar once it enters your body. It's commonly used in weight gain products or as a filler.
Who Should Use IsoPure Mass?
Because of its high protein, high carb formula, IsoPure Mass would be a great product for people who want to gain weight and bulk up. I wouldn't recommend it to people who are just looking for a good protein powder like Myotein.
IsoPure Mass should only be used by people who are planning on following an intense workout programs. Otherwise, you're likely to gain fat weight because of all the carbs.
Is IsoPure Mass Safe?
IsoPure Mass has safe ingredients, but it also has huge doses, so there is a chance that you could experience some bloating or stomach upset. Read the section below for tips on how to avoid these side effects.
How to Use IsoPure Mass
When you're first starting to take IsoPure Mass, I recommend only take 2-3 scoops per day. After a few days, you can gradually begin to increase your doses until you're taking a full serving. You'll get the best results by taking no more than 3 scoops at a time though, because your body will be able to digest and absorb the formula better.
I wouldn't recommend taking more than 1 serving a day. If you do, you're more likely to experience side effects and to gain fat weight. Plus, your body won't be able to use the extra protein (each serving has 106% of your Daily Value already).
For every scoop of IsoPure Mass you take, mix it with 3 ounces of fluid. It mixes well with water. If you aren't lactose intolerant, you can mix IsoPure Mass with milk. It can also be added into yogurt, smoothies, or cereal.
If you have trouble mixing IsoPure Mass, try adding water into your blender or cup first, and then add the powder.
How's the Taste?
IsoPure Mass comes in two flavors: Creamy Vanilla and Dutch Chocolate. Users really love both these flavors but they rate the chocolate flavor higher.
Buying IsoPure Mass
IsoPure Mass comes in two sizes: 3.25 lbs. or 7 lbs. You can't buy it on the official website, but they do give you a list of retailers who do sell it. Here are just a few:
• Supplement Warehouse
• TigerFitness.com
• All Star Health
The lowest prices I found online were on Bodybuilding.com. You can get the 3.25 lb. container for $29 and the 7 lb. container for $54.99.
None of these retailers offer a guarantee like the one you get with Myotein: 90 days, 100% money back.
Final Thoughts
If you're goal is to gain weight and bulk up, IsoPure Mass could be a great product for you. It has a good formula of carbs and protein, and users rate it highly for safety and effectiveness. The downsides are that it doesn't come guaranteed and it can't be used by everyone.
If all you want is a high-quality protein powder, I recommend Myotein instead of IsoPure Mass. It has a low-carb, high-quality protein formula which can help you build and preserve muscle; or supplement your diet with a great source of protein. For more information, visit wwww.Myotein.com.
Have you tried IsoPure Mass before? I would love to hear your opinion or suggestions. Did it work for you? What did you do to improve your results?