Syntha-6 Review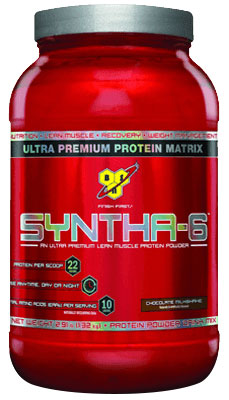 Syntha-6 is one of the most popular protein powders people turn to when they first decide to add protein to their workout or weight loss efforts; to increase muscle strength and size, and to maximize their physical performance.
With its rise in popularity and increase in flavors available, I can't help but wonder what makes Syntha-6 such a powerful protein formula?
It seems like Syntha 6 is only getting more and more popular. So let's find out if it's something that could help you.
Click Here to See Our Top Recommended Protein Powders
What's in the Formula?
Syntha-6 contains some of the purest whey protein isolates on the market. Studies have shown whey protein in particular contains the essential amino acids muscles need to elevate plasma and preserve lean muscle mass during intense physical exercise.
Syntha-6 also provides a wide variety of vitamins, minerals and antioxidants such as Vitamin A and C, both of which can reduce oxidative stress on cells and increase the lifespan of your muscle fibers. When combined with magnesium and iron (also found in Syntha-6), these minerals will not only help build muscle but improve digestive health and heart-activity as well. Protein really is more than just a way to build muscle after all.
Will This Formula Be Effective?
With 22 grams of high-quality protein per scoop, Syntha-6 should give you enough to protein to maximize your lean muscle development; without flooding your body with unnecessary fillers or ingredients or even protein that won't be absorbed or used by the body. Syntha 6's formula is also great because it can deliver a rush of nutrients following your workout to help you get the most out of your workouts. The nutrients and proteins in Syntha-6 also reach your muscle just when they need it most to fuel recovery and enhance the muscle building process.
Is Syntha-6 Safe?
Based on the formula and ingredients alone, Syntha-6 should be very safe. Protein powders in general are considered extremely safe when it comes to supplements with very few side effects. It lacks the ingredients found in workout supplements which usually cause side effects. There are more than 2,000 online customer reviews for Syntha-6 and I wasn't able to read all of them; but after searching through several pages, I had yet to see any mention of side effects.
And after using Syntha-6, there were no side effects what so ever. I didn't expect any but some protein powders can cause an upset stomach or clog your bowels. As long as you continue to eat a balanced diet, you'll have no issues with Syntha-6.
Does It Work Fast?
Syntha-6 has a powerful formula, so I wasn't surprised to hear users say it works fast. They noticed a significant difference in how quickly they could build mass, and recovery times were cut down a lot too. The formula kicks in fast, soon after you take Syntha-6 too.
For me, before I took Syntha-6 I made sure to work out harder than usual. I add a couple sets and increased my reps. I also works some areas that hadn't been worked as often. I knew I was going to feel the muscle soreness. But I took Syntha-6, I choose the Cookies and Cream flavor, and I did feel some soreness but not even close to as much as I thought I would feel. And the soreness lasted less than 24 hours. A day after my most intense workout in probably 6 months, I was back at the gym doing the same workout. And that's what you want from a protein powder.
Does it help you get back and work harder? Syntha-6 does.
What Do Consumers Say?
Users consistently give Syntha-6 high ratings. In fact, it has a rating of 9.2/10 on one site. What users love the most about Syntha-6 is the great taste, fast results, a high quality formula, bigger muscle gains, and quick recovery. The low calorie and sugar content are definite selling points too.
Many users work out regularly while using Syntha-6 and they love the difference it makes to their workouts. Other users don't work out as much, but by taking Syntha-6 they're able to maintain muscle strength and mass for longer.
How to Use Syntha-6 for Best Results
Taking Syntha-6 in the morning is a great way to start your day with more energy. If you work out, take Syntha-6 thirty minutes before your workout, or take it after your workout or at the end of the day. There really isn't one "best time" to take Syntha-6. Users say it's effective any time.
Syntha-6 should mix great with water or milk. I recommend taking 1-2 scoops at a time, one or two times a day to get the best results.
You don't have to work out while using Syntha-6. Some people just like to use it as a meal-replacement shake. But if you plan on getting stronger and building muscle, you'll need to work out to get those results from Syntha-6.
Where to Find the Best Deal
Syntha-6 comes in containers of about 3 pounds and 5 pounds. Since the official website doesn't issue refunds for products that have been opened, and since the price for Syntha-6 is a lot higher there, I recommend looking for other retailers who offer lower prices. Chances are good you'll love Syntha-6, but it's still a good idea to find a retailer who offers refunds, if you can.
The lowest prices I found for Syntha-6 online are $30 for the 3 pound container and $47 for the 5 pound container. If you want to sample Syntha-6 before you buy a whole container, the official website sells 4 packs for $4.99.
What About the Taste?
I know taste isn't the most important thing, but for some people who use a protein powder everyday as a meal replacement, it can make a difference. Honestly Syntha-6 is one of the best flavored protein powders I've tried.
I used the chocolate, cookies and cream and vanilla ice cream flavor and loved all of them. Syntha-6 comes in tons of different flavors, on the BSN site there's only a limited selection but if you shop around you'll find everything from those I mentioned above to caramel latte, chocolate peanut butter, chocolate milk shake, banana, chocolate mint and so many other flavors.
Final Opinion
After you see all the facts, it's not hard to see why Syntha-6 is a top-rated protein powder with such high ratings from users. If the majority of users like this product, chances are good you'll like it too. I like the high-quality and safety of Syntha-6's formula. You have to pay a little more for it, but it should be a worthwhile investment because you will see the benefits.
If you use Syntha-6, please tell us what you think of it. Does it work for you? What have you done to get great results? Would you recommend it?