Serious Mass Review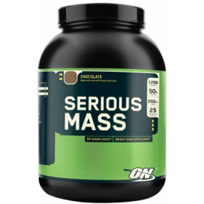 If you're goal is to gain weight, Serious Mass is designed for you. Made by Optimum Nutrition, this protein powder is supposed to give you everything you need to bulk up.
Also from Optimum Nutrition is the best-selling Gold Standard Whey Protein. Let's see if Serious Mass can deliver the same results and quality users are used to getting from Gold Standard Whey Protein and other Optimum Nutrition products.
Optimum Nutrition
Optimum Nutrition has a well-established reputation for producing high-quality protein powders, sports beverages, nutritional bars, and workout supplements. They're a wholly owned subsidiary of Glanbia, which is a leading international cheese and nutritional ingredients group.
Quality and customer satisfaction are the stated priorities of Optimum Nutrition, and it shows in their products, two of which are ranked as top-products on this site. So, now let's see what Serious Mass has to offer…
What Does Serious Mass Have In It?
Serious Mass is loaded with protein, vitamins, and minerals (25 vitamins and minerals to be exact). Here are some of the supplement facts for each serving:
• 1250 calories
• 4.5 grams of fat
• 80 mg of cholesterol
• 252 grams of carbs
• 20 grams of sugar (no added sugar)
• 50 grams of protein
The types of protein Serious Mass uses are whey protein concentrate, calcium caseinate, egg albumen, and sweet dairy whey. This is a quality blend of fast and slow-absorbing proteins, but you won't see most of them used in other protein powders. For example, Gold Standard Whey Protein has whey protein concentrate, but none of the other proteins.
Serious Mass also has creatine monohydrate (1 gram), l-glutamine (500 mg), and glutamine peptides (500 mg). Creatine is popular among bodybuilders because it increases muscular energy supplies and helps build mass. Glutamine is one of the best ingredients for preventing catabolism and preserving muscle mass.
Is This a Good Formula?
If you want to gain weight and bulk up, Serious Mass definitely has a good formula for it. Just look at the number of calories and carbs! However, there are a few tips you should follow to get the best results from this product.
Tips for Getting the Best Results
Fifty grams of protein (the amount Serious Mass has in each serving) is 100% of your Daily Value. Although this much protein seems like it would be good, the fact is, your body can only handle so much protein at one time. If you dump too much protein into your system, a lot may get wasted.
I recommend taking no more than 1 serving (2 heaping scoops) of Serious Mass a day. This should give you all the protein you need; so if you are taking in protein from other sources, I suggest cutting back on how much Serious Mass you take.
It would also be a good idea to take half a serving twice a day; instead of the whole serving all at once. This will improve your body's ability to utilize the protein and other ingredients. If you're just starting to take Serious Mass, you should only take 1/2 a serving each day for the first week.
Each scoop of Serious Mass should be mixed in a blender with 12 oz. of water or milk.
If you want to gain muscle instead of fat, you'll need to follow an intense workout program while using Serious Mass.
Is Serious Mass Safe?
This protein powder should be safe. It doesn't contain any stimulants or harmful ingredients. None of the user reviews I read mentioned side effects. If you take too much Serious Mass at the start, you may experience some side effects as your body adjusts. That's why I recommend taking a lower dose at first.
What Do Users Say?
For the most part, users really like Serious Mass because they say it builds muscle, quickens recovery time, and boosts energy. I could only find a few complaints, which said it was complicated to take and didn't taste good.
Serious Mass comes in four flavors: Chocolate, Banana, Strawberry, and Vanilla. Users say the Chocolate and Banana flavors are the best.
Buying Serious Mass
Serious Mass comes in three sizes with these prices; when you buy it on the official website:
• 3 lbs. – $31.49
• 6 lbs. – $48.49
• 12 lbs. – $81.49
Other sites that sell Serious Mass are GNC.com (also in-stores) and Bodybuilding.com. The lowest prices are offered on the latter site and they are:
• 3 lbs. – $18.99
• 6 lbs. – $27.74
• 12 lbs. – $44.99
If you buy from the official website, they will issue refunds for opened products. Seventy-five percent or more of the product has to be unused and you must return it within 30 days.
Conclusion
Serious Mass is not your average protein powder. It's designed to help serious athletes and bodybuilders put on serious muscle mass; hence the name. If you use this product in conjunction with a rigorous workout programs, I think you would get great results from it. Serious Mass is definitely a high-quality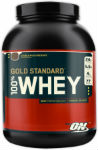 product and I recommend trying it.
However, if all you're looking for is a good protein powder, I recommend going with Gold Standard Whey Protein. It comes from the same manufacturer and has a high-quality formula and great reputation. To learn more about it, visit this site.
Have an opinion of Serious Mass? Feel free to share it here. Let us know if you would recommend it.