Optimum Nutrition Gold Standard Whey Protein Review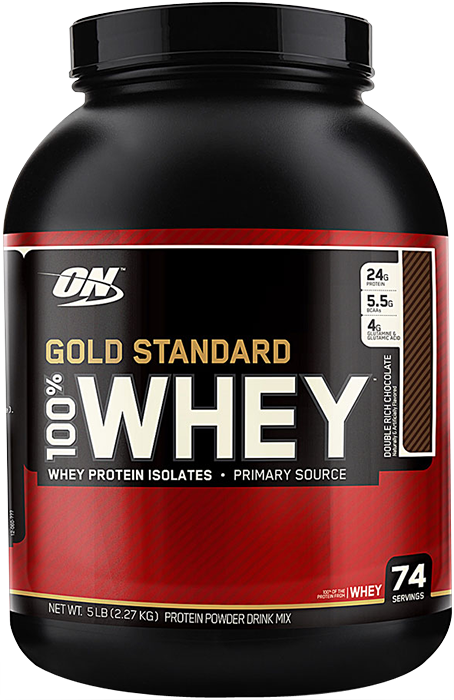 There's no question Optimum Nutrition is one of the leading companies out there when it comes to nutritional supplements and of course they have a line of protein powders including Gold Standard Whey Protein.
Actually Optimum Nutrition has everything from pre workout supplements to casein protein and mass gainer supplements.
When it comes to strictly protein, whey protein isolates are the purest form of whey protein you can get. And Optimum Nutrition Gold Standard 100% Whey Protein uses them as its main ingredient along with whey protein concentrate and whey peptides.
Even with the name, you get 90% Whey Protein in here, but that's a great form of protein for rapid absorption and digestion. There's no other protein out there with more whey protein included.
With such a pure, whey protein-filled formula, this product is supposed to deliver better muscle-building, more energy, and faster recovery than any other product or brand.
It's almost as if this is just like a review of Whey protein itself. But there are some other aspects to compare to other whey protein supplements too, so let's take a look.
Click Here to See Our Top Recommended Protein Powders
The Formula
Every serving (1 scoop) of this product has 24 grams of whey protein isolates, whey protein concentrate, and whey peptides. Although whey proteins isolates are the purest protein, you get more results, when other types of protein are used too. It's really a good idea to have different sources of protein even if they are all whey protein because that's really the best way to get the greatest benefits.
For example, whey protein isolates get absorbed, used, and retained by the body faster and more efficiently than other forms of protein. Whey protein concentrate is a blend of amino acids and branched chain amino acids; making it a great protein for muscle building and maintenance. Whey peptides help improve immunities, increase muscle growth rates, and increase nitrogen utilization and retention.
These proteins are some of the highest quality available. You won't find them in all protein powders in the combinations or concentrations used in Gold Standard Whey Protein.
There are different categories of protein powders such as mixes and mass gainers or simply casein or whey. This isn't a mix like other products so you just get the initial benefits from the rapid absorption. Many people end up combining a whey protein with something like casein so they have the initial benefits and then the lasting benefits they get from casein.
In general, you'll want to take whey protein right after a workout, whereas casein takes longer to be absorbed and is great to take before bed so you can feed the body throughout the night. Both kinds of protein can be used as a meal replacement depending on your needs.
The Effectiveness
As far as whey protein powders go, Gold Standard Whey Protein is one of the best. With an exceptional formula of high-quality protein, it should provide your muscles with the nutrients they need to grow faster and bigger. Recovery time should also be reduced.
Gold Standard Whey Protein also delivers an optimal dose of protein at 24 g a serving, for some it's enough to use just once a day and others take it as much as three times a day to get enough protein in their diet. It's best to get about 1 g of protein every day for every pound you weigh through a combination of food and supplements. What"s nice here is you can decide how much to supplement with the food you're already taking.
Other products can include more protein in their formulas per serving, but that's not always what works best. For example, Monster Milk has 50 grams of protein per serving, which has it's benefits for some individuals but since the body can only digest a limited amount of protein at a time, excessive amounts can get wasted and flushed out especially if you're not a serious muscle builder.
Safety & Side Effects
Gold Standard Whey Protein should be a very safe product. Overall protein powder has very few side effects. Some protein powders include stimulants or ingredients which are known for causing side effects. Gold Standard Whey Protein only has protein and amino acids so you very unlikely to see any side effects at all.
Speed of Results
Each type of protein Gold Standard Whey Protein uses is a fast-absorbing kind. This means your body can break it down faster and deliver nutrients and energy to your muscles quickly. When people use Gold Standard Whey Protein to enhance their workouts, they usually notice improvements in performance and muscle growth within the first 2 weeks.
The nice thing about this rapid-absorbing protein is your muscles will recover faster. If you plan to hit the gym after an extended time away, you'll want a protein powder to help prevent the soreness that comes with an intense workout.
Customer Reviews
Gold Standard Whey Protein is definitely a preferred protein powder. Users tend to give it excellent ratings and to recommend it to others. For example, more than 5,700 reviews of Gold Standard Whey Protein gave it, on average, a rating of 9.1 out of 10.
According to the reviews, Gold Standard Whey Protein builds muscle, cuts down recovery, and increases energy. Users also say it taste great and mixes well. These last criteria may seem trivial, but they're actually potential deal breakers for a lot of people.
There are also a bunch of different flavors from chocolate mint to cookies and cream to caramel latte and of course the usual strawberry, chocolate and vanilla.
How to Get Best Results
Gold Standard Whey Protein is best taken first thing in the morning or after a workout. Many people also use it as a meal replacement, and it seems to work well for this.
If you're planning on using Gold Standard Whey Protein to enhance your workouts and muscle growth, I recommend taking 2 scoops a day, but take each scoop at different times. If you're using it as a meal replacement or to preserve muscle mass, one scoop a day should do the trick. You can usually cut down 300 to 500 calories a day if you use it as a meal replacement. Some people like to add some fruit to the shake of eat it in addition to the shake for that particular meal to ensure they are getting a balanced diet.
Price & Guarantee
Gold Standard Whey Protein comes in containers of these sizes with their respective price ranges:
• 1 pound: $14 – $22
• 2 pounds: $27 – $40
• 5 pounds: $57 – $75
• 10 pounds: $109 – $149
Compared to other protein powders, Gold Standard Whey Protein is a great value. It may cost more than some other products, but you should get your money's worth in quality and results.
If you buy it from the official website, you'll usually pay a higher price. However, they're the only site that issues refunds for opened/used containers. To get a refund, 75% or more of the protein powder must be unused and you have to return it within 30 days.
Click here to buy it at the lowest prices.
Final Opinion
Gold Standard Whey Protein is a high-quality product with a great reputation for safety, effectiveness and value. Yes, it is a little pricey; but this is one case where you get what you pay for. When compared to other products, Gold Standard Whey Protein is better in terms of safety and effectiveness, so it should be a better choice.
I recommend Gold Standard Whey Protein. But you probably will want to add an additional casein protein if this is the route you choose.
If you have any comments about Gold Standard Whey Protein, please share them below!