Zone Perfect Shake Review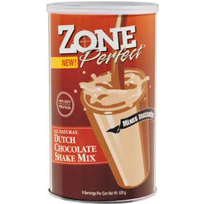 The Zone Perfect Shake is a can base drink that can give you the ultimate way to fortify your body with antioxidants, fiber, and protein in one simple and easy to carry, ready to drink formula. With Zone Perfect Shake, you can finally and effectively speaking increase lean muscle mass, and it can act as a healthy snack or replacement meal. With Zone Perfect Shake, you get the perfect blend of ingredients for all of your needs. But how does it actually work?
What's In Zone Perfect?
The Zone Perfect Shake contains a few different natural ingredients to help your protein level spike. Here's a look at some of the top performers and what they do.
• Milk Protein is a good source of protein as natural bovine milk contains about 30 to 35 grams of protein per liter. Milk protein is also easily absorbed by the body, making it into your system within 10 minutes of ingestion.
• High Oleic Safflower Oil contains quite a few monounsaturated and polyunsaturated fats, which stabilize cell membranes and aid in proper hormonal balance. This can help to lead to more fat burning while protecting and even increasing lean body mass.
• Cocoa is full of antioxidants, with 500mg of immune boosting molecules. It also helps you gain weight and build lean muscle mass.
• Sodium Citrate regulates muscle contractions, keeping spasms from occurring. It also keeps muscle pain at bay and boosts recovery time.
• Tricalcium Phosphate is a calcium salt included in many dietary supplements to help you meet your daily calcium needs, creating a strong infrastructure for your new muscles.
All in all, Zone Perfect contains 260 calories per can, 70 of which are fat calories. You're also getting 5mg of cholesterol, 155mg of sodium, 280mg of potassium, and 22g of sugar.
You can get Zone Perfect Shake in two flavors—French vanilla and chocolate. You should take one drink as either a snack or a meal replacement.
The Good
Zone Perfect Shake has some good milk protein, about 18g of whey based protein that can effectively speaking get into your system and show certain results in general. Likewise, they have other vitamins that can fulfill essential needs.
The Bad
Zone Perfect Shake does not actually have a real amount of quality protein. Zone Perfect Shake's protein is extremely low quality at best, and ultimately speaking the fact is that Zone Perfect Shake does not actually have what it takes in terms of amounts. We expect about 23-24g, and realistically speaking, the most successful supplements have about 26g. But they have 18g of low quality protein at best.
The Skinny
We would not recommend using Zone Perfect Shake. It will not give you what you would need, and ultimately speaking, Zone Perfect Shake is just another waste of time and money. Zone Perfect Shake does not have the right ingredients or the right amounts, and there are easily far better protein products out there.