Xero Limits Engorge Review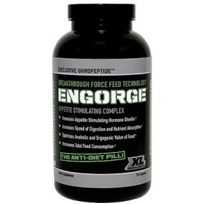 Xero Limits' Engorge is an appetite stimulating supplement that works to speed up and increase nutrient absorption.
About Xero Limits Engorge
ENGORGE has been formulated by Xero Limits researchers with an advanced Force Feed Technology. Through a series of physiochemical signals, this breakthrough technology targets key biomarkers that regulate hunger, satiety, gastric expansion and digestion, allowing you to consume more food and total calories.
To activate an insatiable desire to eat and an appetite of massive proportions, ENGORGE stimulates the hunger hormone ghrelin with its exclusive Ghropeptide. As you feed your new ravenous appetite, ENGORGE's MacroMore Gastic Expanding Complex may relax the smooth gastric muscle tissue of your stomach, thereby increasing stomach volume, filling capacity and delaying fullness so you can pack in more food.
To improve the digestion and enhance the nutritional uptake of these large meals, a BioEngineered Anabolic Optimizing Digestive Enzyme Complex has been specially designed for ENGORGE. This revolutionary enzyme complex, Anabolzyme, also speeds stomach emptying so you are ready to devour your next meal and continue the force feeding required for massive growth!"
Xero Limits Engorge Ingredients
Vitamin A (As Retinyl Palmitate) 4000IU
Thiamine (As Thiamin Mononitrate) 12mg
Folate (As Folic Acid) 400mcg
Vitamin B12 (As Cyanocobalamtn) 33mcg
Biotin 400mcg
Magnesium (As Magnesium Oxide) 50mg
Zinc (As Zinc Citrate) 10mg
Ghropeptide: Appetite Stimulating Hormone Modulators: 1.75mg
Prunus Domestica (Fruit) And Trigonella Foenum-Graecum (Seed)
Anabolzyme: Bio Engineered Anabolic Optimizing Digestive Enzyme Complex: 415mg
Protease 4.5, Amylase, Bromelain, Invertase, Protease 3.0, Peptidase, Protease 6.0 (Cone), Glucoamylase, Cellulase, Lactase, Lipase
MacroMore: Gastric Expanding Herbal Complex: 275mg
Zingiber Officinale (Root), Foeniculum (Seed), Glycyrrhiza Glabra (Root)
Conclusion
It's hard to swallow–no pun intended–the concept of stimulating ones' appetite in order to grow. Many bodybuilders burn more calories than they can consume, and in a society that frowns on overeating, it's no wonder that a product like this would have to be made in order to encourage sheepish eaters along.
ENGORGE has received moderate reviews from its users, most claiming that it did indeed stimulate their appetite. The major drawbacks were that after a while it would stop working as effectively at increasing appetite, and that it caused gastric pain if you didn't eat enough.