100% Whole Gains Review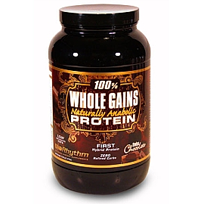 Created by BioRythm, 100% Whole Gains is a natural anabolic protein powder that is supposedly pioneering protein supplementation with the use of whole carbohydrates alongside pure protein powder.
Manufacturers would have you believe that with this new and revolutionary formula, athletes and bodybuilders alike will supposedly gain the certified nutrition they need to maximize their bodybuilding results. Additionally, they go so far as to claim that with other supplements you won't get the maximum absorption of protein as you would with their supplement.
Yet can 100% Whole Gains give you the results you're looking for? Or is BioRythm simply out to make a profit? Let's take a closer look to see what this product has to offer.
What Inside
100% Whole Gains offers 36 grams of protein, which is about as much as your body can absorb in a single sitting. Although other protein powders provide as much as 50 grams of protein in a supplement, the liver can only handle about 30-40 grams in an hour, and unused protein powder is simply eliminated through the stool rather than being stored like other essential foods.
Unfortunately, the protein found inside 100% whole gains is a mixture between whey protein, micellar caseins, and whole milk protein – which aren't bad in and of themselves, but purity is key when it comes to protein, and this mix won't give you the mind-blowing results of other supplements on the market either. Although 100% Whole Gains offers the right amount, it doesn't provide you with the quality you need to be effective.
On top of protein, 100% Whole Gains offers 23 grams of carbohydrates and 306 calories per serving. With so many calories per serving, you'll want to make sure that you watch your calorie count, as you may end up drinking more calories than you actually burn at the gym.
The Price
If you'd like to try 100% Whole Gains for yourself without making a full investment in a giant tub, you can buy a single-serving size bottle for a little less than $5 – which is pretty pricey for a single serving but may save you money if you don't like the taste or the results that come with this product. On the other hand, you can buy a 2.5 lb of the formula for about $54.95 – which is also pretty pricey considering how little this formula actually has to offer.
The Flavors
100% Whole Gains is a little bit more daring than the average protein powder because it branches out with flavors such as seedless watermelon and sweet mango, but if you like the typical chocolate and vanilla, then you can those too.
Consumers actually love the taste and it mixes fairly well without clumping. It's a little grainy, but not so much that it acts as a deterrent from using this protein supplement. A few consumers actually noted that it was one of the few protein supplements that don't cause bloating or indigestion.
Conclusion
BioRhythm 100% Whole Gains is not a bad formula. Although it sticks to a fairly simple approach to boosting protein intake, many consumers have experienced positive results while using this product, so it may be worth additional investigation.