100% Whey Crisp Bar Review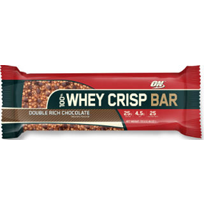 These snack-sized bars, such as 100% Whey Crisp Bar, have become increasingly popular as people have started to realize the benefits of using a product that is convenient, healthy, tasty and affordable.
Protein bars are sometimes used as alternatives to Myotein and other protein powders because they are more convenient, but that does not necessarily mean they are as effective.
In this review, we're going to take a quick glance at one protein bar in particular, called the 100% Whey Crisp Bar. As its name suggests, this product contains 100% pure whey protein in a wafer-like bar. In addition, there are a number of other intriguing points about this protein bar to discuss than meets the eye.
What's The Hype About This Product?
Beyond the fact that it contains 100% pure whey protein, what else does this product contain?
For starters, the 100% Whey Crisp Bar is designed to be used by both athletes and non-athletes alike.
If you do consider yourself an athlete, or at least hit the gym regularly, this protein bar works as both a pre-workout primer and as a recovery supplement that can be consumed after working out as well.
On the other hand, if you consider yourself just an average Joe or Jane, you can still take advantage of the nutritional content found in this protein bar at anytime during the day. The 100% Whey Crisp Bar can be munched on in the morning, afternoon or evening as a healthy snack and food choice between meals to give you the fuel you need to accomplish your daily tasks.
Lastly, the makers of the 100% Whey Crisp Bar, Optimum, advertise that their team has engineered one of the best-tasting protein bars around.
Does This Product Live Up To The Hype?
As you may well know, plenty of products can talk the talk, but can't really walk the walk.
So what about the 100% Whey Crisp Bar? Is it for real?
In answer to that question, let's first take a look at its nutritional value. Each serving of this protein bar amounts to 70 grams of nutrients. In these 70 grams, you'll find that there are 25 grams of whey concentrate/isolate protein, 34 grams of carbs, 4.5 grams of essential fats and 1 gram of fiber. In addition, there are only 6 grams of sugar, no trans fats and a very slim portion of cholesterol and sodium found in each serving of 100% Whey Crisp Bar.
Taking all of these contents into account, its pretty safe to say that this product contains a high amount of nutritional value.
Now then, in terms of being both a pre- and post-workout supplement, we can turn to this product's carbs for the answer. This is due to the fact that the 100% Whey Crisp Bar contains both fast- and slow-absorbing forms of carbs.
The fast-acting forms serve to give a body initial boosts of energy, while the slow and sustained forms tend to enhance recovery and repair as a body rests.
Oh, and this product also received high taste ratings from a number of different online sources.
Is This Product Worth Trying?
In conclusion, this product is worthy of your health and time.
As for your money, you can expect to pay about $26 online for a box of 12 bars/servings. While this isn't an amazing deal by any means, we do believe that its affordable for most people.
So go ahead and give this protein bar a try if you are looking for quality and convenience. To get the best results, however, it may be a good idea to stick to powders like Myotein.