VPX Zero Carb SRO Review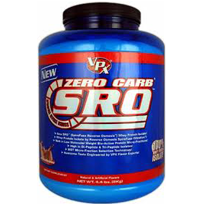 Protein is essential for muscle growth and overall health. Amino acids make up proteins. Amino acids help the body "form cells, repair tissue, make antibodies, build nucleoproteins (RNA/DNA), carry oxygen throughout the body, assist in muscle activity and are part of the enzyme and hormonal system." So, whether you are looking to build lean muscle, lose weight, or simply improve your overall health, protein is for you.
It can be hard to get all the protein you need from food alone, not to mention it can get expensive. Protein powders and supplements are a great alternative to food, and often times can be more beneficial because they are enriched with vitamins and minerals and contain less calories and fats than food protein sources do.
VPX Zero Carb SRO is a protein supplement on the market today. It is unique because it contains zero carbs, zero sugars, zero fats, zero aspartame, zero corn syrup, zero hydrogenated oils and zero estrogen. All you are getting with VPX Zero Carb SRO is pure protein and a great tasting shake. VPX promises that with their product you can trust that you will burn fat and build lean, toned muscles in no time at all.
VPX Zero Carb SRO advertises that its technology savvy list of ingredients have all been proven to safely deliver the results you've been looking for without all of the carbs and fats you've been trying to avoid. Here is the VPX Zero Carb SRO ingredient highlights: quadrafiltration whey protein isolate, proprietary microfaction comprised of a complete spectrum molecular weights for sustained protein absorption and increased nitrogen retention, casein hydrolysate Di and Tri-Peptides, why protein Di and Tri-Peptides, cellulose, carrageenan, guar gum, lecithin, potassium phosphate, trisodium polyphosphate, sucralean, sodium chloride and riboflavin.
The Good
VPX Zero Carb SRO has a lot of good things going for it. Here are our top picks:
• Great flavors: Customers have raved about this product's flavors, which is impressive where this product doesn't contain any sugar. Some of the most popular VPX Zero Carb SRO flavors include Graham Cracker and Serious Chocolate.
• Results: Many users have had great success in their weight loss and their muscle definition goals.
• Technology: All of the proteins in this product have a specific job and are delivered at a specific time to ensure you are getting protein when you need it and all day long.
• Healthy: Like we stated above, this product contains zero carbs, calories, sugars, fats and so on.
The Bad
On the other hand, VPX Zero Carb SRO has a few downsides too. A few of them include:
• One bad flavor: Strawberry Kiwi has a bad reputation for being gross.
• Hard to mix: Many customers complained that VPX Zero Carb SRO is hard to mix and easily clumps.
The Skinny
All in all, we would definitely recommend VPX Zero Carb SRO. The good outweighs the bad. This protein powder is a great value for the money and is the perfect product for a low carb diet.