VPX Sports Coco-Fit+ Review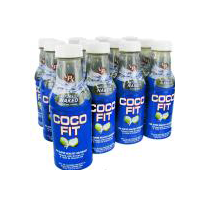 By using a powerful blend of nutrients and anti-oxidants, VPX Sports Coco-Fit+ has developed what they call "a revolutionary sports drink."
The product is packed with ingredients like Coconut Juice, Mangosteen Juice, Ascorbic Acid, and Omega-3 Essential Fatty Acids. With this combination, the products are meant to help improve muscle function, bolster immunity, and provide maximum rehydration.
Many of VPX Sports Coco-Fit+'s ingredients have been used to great effect in other products, but do they make VPX Sports Coco-Fit+ the sports drink to replace all others?
About VPX Sports Coco-Fit+
VPX Sports Coco-Fit+ is nutritious. There is no denying that. Research has suggested that ingredients like Omega 3 fatty acids have help the fight cancer, defend the body against heart disease, lower cholesterol, reduce inflammation, contribute to healthy brain function, and strengthen immunity. These are really some great benefits but are they really fitting for a sports drink?
Will VPX Sports Coco-Fit+ Really Work?
While decently healthy, VPX Sports Coco-Fit+ doesn't provide anything most multivitamins can't. Vitamin D and asorbic acid (vitamin C) are some easiest supplements to find. You could probably pop a few of these with a bottle of gatorade and match what you're getting from VPX Sports Coco-Fit+.
Some of the ingredients are just frilly fillers as well. Antioxidant ingredients sound great but they don't make a product revolutionary, especially a sports drink. According to the most recent research available, antioxidants currently have no bearing on rebuilding muscles, better workouts, or hydration.
Conclusion
VPX Sports Coco-Fit+ doesn't seem to know what it really wants to be in the end. With such an eclectic mix of ingredients, it can decide if it wants to be health supplement, a workout enhancer, or a healthy treat. The truth is, it's a little of all three.
But as they say, a jack of all trades is a master of none. It has no specialty. VPX Sports Coco-Fit+ does a little of everything, but it doesn't do any one thing well enough to distinguish it from the thousands of other supplements out there. We recommend staying with products that are specialized.