VPX Protein Rush Powder Review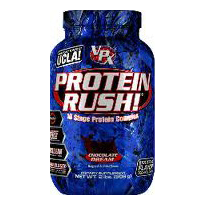 We all know that protein is the best way to build muscle—and so does VPX. That's why they've created Protein Rush Powder for your bodybuilding needs.
But what exactly is protein? And why is it so important? Protein is essential for the body to produce energy because it is one of three macronutrients. The other two macronutrients are carbs and fats.
Protein itself is "a series of amino acids linked together like a chain." Amino Acids are the primary source for nitrogen in the body. Having a positive nitrogen balance is essential for proper muscle growth and repair. If you are looking to build muscle and maintain a proper nitrogen level, a protein powder is a great aid in helping you achieve that goal.
VPX Protein Rush Powder promises to help you achieve your muscle building goals. VPX Protein Rush Powder contains Whey Protein Concentrate, Taurine, Egg Protein, Milk Protein Isolate, Milk Protein Concentrate, Casein Hydrolysane, Sodium Casinate, Licellean Micellar, Glucose Polymer, Cocoa Powder, Cellulose Gum, Xanthan Gum and much more. All of the previously listed ingredients have individually been proven to be safe and effective. Many, in fact, are leaders in the protein powder market for ingredients.
The Good
There are a number of good things that come from using VPX Protein Rush Powder. Here are our top picks:
• Backed by a name you can trust: VPX is a leading name in the protein powder market.
• The promises: VPX Protein Rush Powder promises to deliver results and deliver them fast:
• Effective: Ten potent proteins make up this power packed powder.
• Easy on your system: All of the ingredients contained in VPX Protein Rush Powder are easily absorbed and digested.
• Timing: VPX Protein Rush Powder gives you fast protein when you need it and steadily delivers protein to your system throughout the day.
• Safe: Numerous research studies and clinical trials prove the ingredients to be safe.
• The next level: VPX Protein Rush Powder promises it is the product that, paired with a healthy diet and exercise, will take you to the next level of fitness, health and muscle definition.
The Bad
There are a few points we want to bring to your attention concerning VPX Protein Rush Powder. They are:
• You need to be in good shape to get in shape: VPX Protein Rush Powder markets mainly to professionals and serious body builders. It is not necessarily intended for those who are looking to lose weight or are just starting to focus on muscle definition.
• Poor customer feedback: While there are multiple positive reviews for VPX Protein Rush Powder, there is a great amount that had bad experiences with this product. A few of the complaints include: no energy boost, no fat burning results, made them hungry, no results in muscle definition or weight loss.
The Skinny
The choice of whether to purchase VPX Protein Rush Powder simply depends on what you are looking to get out of your protein supplement. If you are already in good shape, but want to take it to the next level, we would recommend VPX Protein Rush Powder. If you are looking to lose weight, build muscle and get more protein in your diet, we would not recommend this product.