VPX NO-Shotgun Review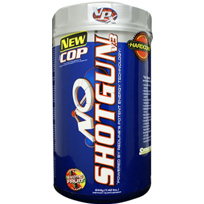 With so many products riding the nitric oxide bandwagon, it's hard to know which ones are actually worth looking into.
Nitric oxide is an exciting new way get the most from every workout. By breaking down certain amino acids inside your muscles, nitric oxide is given off as a by-product.
Nitric oxide actually wides veins and oxygenates the blood to "pump" the muscles almost out of your skin. It is supposed to help you get more from your workouts and help your muscles receive added nutrients to grow and strengthen.
But is VPX NO-Shotgun the best nitric oxide pump product to go with?
About VPX NO-Shotgun
VPX NO-Shotgun does contain the right amino acids to produce vein engorging pumps. With plenty of arginine, the product gives your muscles the right fuel to burn in order to give off nitric oxide and widen your veins. Also, the muscles building components look fairly strong.
Besides nitric oxide precursors, VPX NO-Shotgun contains many of the same amino acids you might find in other bodybuilding supplements. The difference is VPX NO-Shotgun has molecularly bound ester ethyl compounds to each amino acid, allowing the body to absorb them extremely fast. Immediate absorption leads to quick results.
Will VPX NO-Shotgun Really Work?
The product may have a strong strong list of muscle building ingredients but VPX NO-Shotgun does contain some fillers that hold the product back. In every scoop of VPX NO-Shotgun, you're getting 229 mg of VPX's Redline Energy formula.
Redline is meant to act as a far burner to help show off the muscles the product helps you build. It is formulated with caffeine, yohimbine, and thyromimetics. Caffeine is only effective at burning fat when taken in 400mg. Yohimbine is known to cause sever side effects like heart attack or stroke. Thyromimetics manipulate thyroid function, but only in people with already unhealthy thyroids. Redline is a bust and it's a huge percentage of the VPX NO-Shotgun product.
Product Price
You can currently buy VPX No-Shotgun from VPXSports.com for approximately $69.95, which makes VPX No-Shotgun fairly expensive considering you're not getting the best formula for muscle building.
Fortunately, you can buy this formula from other online vendors for half the price, so you can spend the money on more important things.
The Flavor
VPX No-Shotgun comes in three different flavors: exotic Fruit, Grape Bubblegum, and Watermelon. Consumer reviews about the flavors are pretty varied, some saying it was delicious while others thought it tasted horrible. One dieter suggested to drink it fast rather than sipping it in order to get the most out of the formula.
Conclusion
VPX NO-Shotgun does offer a good muscle building formula, but it's fat fighting additions will be completely ineffective and possibly unsafe. It's fillers like Redline that ruin far too many products. Its presence in this item makes VPX NO-Shotgun over priced and cost-inefficient. So if you're looking to build muscle you can actually show off, go with a product that has proven fat burning ingredients in clinically proven amounts. We cannot recommend this product.