VPX Anarchy Covalex Pre-Workout Matrix Review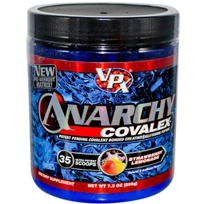 VPX has had some decent muscle builders in the past but now they are branching out by trying their hand at pre-workout supplements.
This one in particular is called VPX Anarchy Covalex Pre-Workout Matrix.
This pre-workout product is concerned with helping already existing muscle achieve their peak performance rather than building new muscle. But does this ATP, focus boosting, performance improving product really work?
About VPX Anarchy Covalex Pre-Workout Matrix
VPX Anarchy Covalex Pre-Workout Matrix does have a good dose of beta-alanine. Beta-alanine combined with l-histidine creates extra carnsosine inside muscle fibers.
Muscles are proven to increase in output, strength, and endurance when carnosine concentrations are high. Also this product contains several ATP boosting creatine ingredients. A few of these, have been molecularly bonded with ethyl ester molecules for immediate absorption making more energy almost instantly available to you.
Is VPX Anarchy Covalex Pre-Workout Matrix Safe?
In order to help achieve focused workouts, VPX Anarchy Covalex Pre-Workout Matrix contains several stimulants, one of which is Yohimbine. As a stimulant Yohimbine helps improve awareness, raise alertness, and perhaps serve to some degree as an appetite suppression.
However, if taken in too high of concentrations, Yohimbine can cause serious side effects. This stimulant can cause rapid changes in blood pressure and thereby results in stroke or heart attack. Yohimbine has also been tied to seizures, skin problems, and renal failure.
Conclusion
At the end of the day, VPX Anarchy Covalex Pre-Workout Matrix is a fairly effective supplement. It does have the ingredients to back up most of its claims. It's also available for a pretty decent price.
But of course the drawback is the safety issue with yohimbine. So if you're willing to risk your health to improve your workouts, this product might be right for you. But if the reason you started working out is because you actually care about what you do and put into your body, we'd recommend finding something else.