USPLabs Modern BCAA Review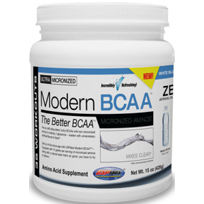 Protein powders are awesome, but sometimes they could use some help.
For the best all-around body building experience, you're going to need the building blocks of protein as well and those are amino acids. To help bodybuilders get the amino acids they need, USPLabs has manufactured Modern BCAA. This product is an 8:1:1 blend of Leucine:Isoleucine:Valine.
These branched chain amino acids provide the body with building blocks they need to build new proteins for muscle growth and tissue repair. It's not new for a product to offer these ingredients. Many powders have done it before. Is there anythings about Modern BCAA that's worth checking it out?
About USPLabs Modern BCAA
There are several decent selling points to Modern BCAA. One of these points is its micronized form. In this micronized form, Modern BCAA's contents are easily mixable in water and don't leave any film or residue.
Modern BCAA also contains an interesting L-Glutamine derivative called L-Alanyl-LGlutamine. This form of Glutamine offers the same anabolic properties as normal L-Glutamine (muscle preservation and protection), only it delivers twice as much Glutamine into the muscles as normal variants.
Glutamine works by opening up blood vessels to even greater expansion levels, allowing more blood, oxygen, and nutrients to flow to your muscles while they're under stress. This is facilitated through nitric oxide, which is produced by increased levels of glutamine.
Will USPLabs Modern BCAA Work?
While BCAA's are essential to get the most out of bodybuilding, you can get them for a better price elsewhere. A container of Modern BCAA costs around $27. Priced that high, stacking it with other products is going to get pretty expensive pretty fast.
The truth of the matter is that there plenty of supplements out there that contain the necessary branched chain amino acids along with a plethora of other ingredients and they don't cost that much more than USPLabs Modern BCAA.
How to Use USPLabs Modern BCAA
If you do decide that you want USPLabs Modern BCAA to be your protein supplement of choice, you should know that taking the supplement is pretty straightforward.
As a protein powder, mix two scoops of USPLabs Modern BCAA in 20 ounces of water and shake for 30 seconds. You can drink it throughout your workout, or take it immediately after training.
Make sure to use the full 20 ounces of water or else foaming will occur, which can hinder the solubility of the powder. If it does foam, wait a few minutes before shaking it lightly.
Never use USPLabs Modern BCAA if you are under 18, pregnant, or nursing.
Conclusion
After reviewing USPLabs Modern BCAA, we found that it will yield results. Its amino acid content is perfect for helping initiate protein synthesis and new muscle growth. Its Alanyl-L-Glutamine is also great for delivering more Glutamine into the muscles.
But these two benefits alone do not merit USPLabs Modern BCAA's price. We know that you can find similarly priced products that do everything USPLabs Modern BCAA does and more.