Ultimate Nutrition IsoCool Review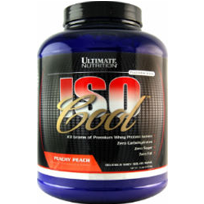 When searching for a dietary supplement that will give us the extra nutrients we are looking for, a person can often times be bombarded by a long list of ingredients that just confuse you.
Ultimate Nutrition IsoCool is a protein supplement that only contains a small amount of ingredients in order to give that active individual, average exerciser, or professional athlete the protein they are looking for in a dietary supplement.
Though many have put stock in Myotein and other popular protein powders.
And featuring a new and innovative technology gives Ultimate Nutrition IsoCool that extra appeal.
What Ultimate Nutrition IsoCool Contains
In each serving (26 grams) of Ultimate Nutrition IsoCool you'll get 23 grams of protein (46% daily value), 20 milligrams of cholesterol (7% daily value), 40 milligrams of sodium (2% daily value), vitamin A (2% daily value), calcium (15% daily value), and iron (2% daily value).
Unlike some other protein supplements on the market, Ultimate Nutrition IsoCool doesn't contain a long list of unrecognizable ingredients that will confuse and stump the user.
Ingredients are:
• Premium Whey Protein Isolate
• Natural and Artificial Flavors
• Acesulfame Potassium
• Sucralose
• Soy Lecithin
Also contained in Ultimate Nutrition IsoCool is milk and soy.
The Pros
Ultimate Nutrition IsoCool features a new, innovative technology, ColdPure ultrafiltration that takes place during the processing.
ColdPure ultrafiltration takes the whey protein and isolates it into a highly bioactive form by using an advanced low temperature process which then produces a bioactive whey that is non-denatured.
Because it is a bioactive whey, Ultimate Nutrition IsoCool contains EAA's and BCAA's to give the user important nutrients.
Ultimate Nutrition IsoCool doesn't require that you use a blender, just adding it to your water, milk or other choice of beverage will give you a nice consistency milk shake that you can drink before or after your workout.
The Problems
Ultimate Nutrition IsoCool is not a protein supplement that can be used to aid weight loss. On the nutritional label of Ultimate Nutrition IsoCool it states that it should not be used for weight reduction, but can be used as a food supplement.
Coming in only five flavors, Ultimate Nutrition IsoCool might limit the user on finding a flavor that they love.
Flavors are:
• Chocolate Crème
• Vanilla Crème
• Juicy Apple
• Cherry Berry
• Peachy Peach
The Price
Ultimate Nutrition IsoCool can be found for around $45 for the 5 pound container which will give you 87 servings per container.
You can also find Ultimate Nutrition IsoCool in a 2 pound container, which contains 35 servings per container.
Overall Impression
With mixed user reviews out there, some users have loved the taste, but others have not – which, is about the same with any product on the market.
Overall, if you're looking for a body building protein supplement, Ultimate Nutrition IsoCool will help you in building muscle and give you a good amount of protein.
However if you want a protein supplement that will aid you in weight loss, Ultimate Nutrition IsoCool is not the protein supplement to use. However, Myotein can provide great results and good ingredients for you to build up muscle and tone with.