True Mass 1200 Review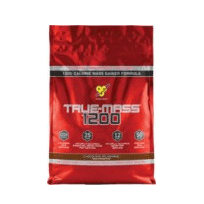 If you're a hard-gainer and struggle to put on mass, your life probably revolves around one word: calories. BSN's new True Mass 1200 was developed with that mind, clocking in at just over 1200 calories per serving.
Building muscle is impossible unless sufficient calories are present for growth. True Mass is one of BSN's most recognized supplements, winning Bodybuilding's weight gainer of the year 4 years in a row. So what's new in True Mass 1200? Let's take a closer look.
What's The Difference Between True Mass and True Mass 1200?
The first thing you'll notice when comparing the two is the difference in calories. True Mass only has 700, while True Mass 1200 has almost double that. True Mass 1200 significantly boosts the carbohydrate content as well, containing over 100 more grams of carbohydrates.
These extra carbohydrates include ground whole oats for a healthy source of calories, providing sustainable energy.
True Mass 1200 Protein Matrix
If you look carefully, you'll see that the protein matrix in True Mass 1200 is essentially the same as in Syntha 6 ─ another BSN product. This mixture of slow and fast digesting proteins allows amino acids to immediately drive protein synthesis, and keep the body in an anabolic state for the next few hours.
True Mass 1200 is also reinforced with whey protein concentrate, isolate and hydrolysate to boost concentration of the amino acid leucine. High amounts of leucine increase muscle growth by driving amino acids into cells.
Who Should Use True Mass 1200?
Weight gainers like True Mass were created for anyone with a fast metabolism, or low appetite to increase overall caloric intake and build muscle. It is uniquely tailored for individuals with high caloric requirements.
These people are typically known as hard-gainers because of their rapid metabolism and struggle to get adequate calories to build and repair muscle.
How to Take True Mass 1200
The directions say to mix two scoops with 16 oz. of cold water or milk, for a better taste. Drink 1 serving daily to satisfy protein or mas gaining requirements.
True Mass 1200 is perfect for post-workout nutrition, or as a meal replacement. It works best in conjunction with a healthy diet and exercise.
How Much Does True Mass 1200 Cost?
As a brand new product, pricing information is currently unavailable for True Mass 1200. Product launches, however, are usually a great way to save money. Prices are often lowered to promote the sale of products when they come out.
True Mass 1200 Customer Reviews
True Mass 1200 is still too new to have third party customer reviews. Until more people have tried it, you are on your own.
True Mass 1200 Flavor and Taste
BSN's True Mass and Syntha 6 are both great tasting protein powders, and with True Mass 1200 you should expect more of the same. It is currently available in 3 flavors, Strawberry Milkshake, Vanilla Ice Cream and Chocolate Milkshake.
Should You Buy True Mass 1200?
I would recommend True Mass 1200 if you are struggling to gain weight, and haven't seen results from other weight gainers. This is also the perfect time to buy, as the price will likely be low as an incentive to buy a new product.