The Truth About Building Muscle: 5 Myths That May Pull You Down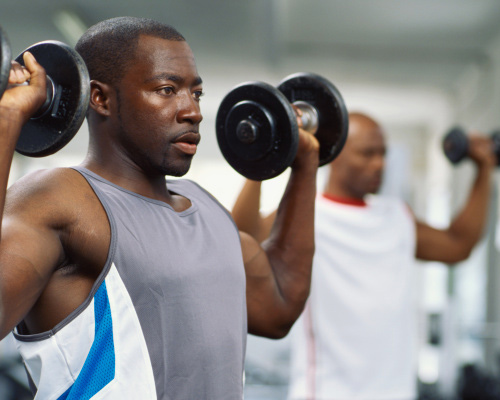 As harsh as this sounds, human kind is generally lazy.
If there were an easy way to lose weight and build muscle without the extra effort, most people would jump on it in a heartbeat.
Because people are constantly looking for a quick fix to build a better body, there are countless myths and rumors are flying around the gym these days. This makes it harder and harder to find the truth about building muscle.
If you don't do a little research, these myths could keep you from making the most of your next workout.
Myth #1: "You have to switch up your routine to trick your muscles."
Fact: Doing the same old routine can get boring day in and day out, and when someone says that switching up your routine will give you a better work out, people are eager to believe it.
However, muscles don't stop growing simply because your workout has gotten a little bland as of late, and frequently changing your routine may be counterproductive.
"For most people, ['confusing' your muscles] is a mistake," says Christian Finn, a certified personal trainer with a master's degree in exercise science. "There is no point in variety for the sake of variety, and the best way to make absolutely no progress at all is to keep jumping around from one routine to the next.
Finn recommends consistency instead of variety, and says, if you have to make adjustments, make minor ones.
Myth #2: "You need to do crunches if you want better abs."
Fact: Crunches are a good exercise for working out your core muscles. But you could do a thousand crunches every day, and you still might not get the amazing abs you've always wanted.
A likely reason is that your abdominal muscles are hidden under a layer of belly fat, and unfortunately, there's no way to target fat in a specific area.
If you want better abs, fitness experts recommend first reducing your overall body fat percentage. Also, make sure to do the abdominal exercises that actually work.
Researchers at the Biomechanics Lab at San Diego State University compared the thirteen most common abdominal exercises to find which ones were the best. At the end of the study, researchers ranked these exercises as the best for sculpting your six-pack:
• Bicycle Crunch Exercise
• Captain's Chair Exercise
• Crunch on an Exercise Ball
Myth #3: "You have to do 8 to 12 repetitions."
Fact: People like to keep track of their progress, and there's something undoubtedly satisfying about aiming for a specific number and then achieving that goal on a regular basis.
This particular myth originated in 1954 from a paper written by Ian MacQueen, MD, an English surgeon and competitive bodybuilder, who said it was "the optimal range for building muscle".
But, just because people have been following this rule for decades doesn't mean it's a good one. The truth is, there's no magic number to hit to achieve the best possible results.
A quick lesson on muscle building: heavier weights cause muscle fibers to grow larger, which results in stronger muscles.
On the flip side, more tension (or more repetitions) increases energy-producing structures around those fibers, which in turn, results in better endurance. The key is to find a balance between the two if you want to make the most of your work out.
Varying your range will vary your results.
Myth #4: "You need to eat lots of meat to build muscle."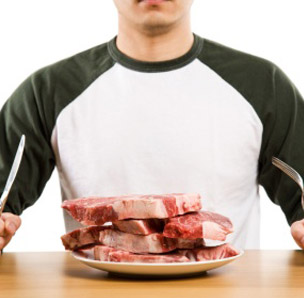 Fact: While it's true that the body needs protein to build bigger muscles and produce essential hormones, keep in mind that high-protein diets are not the ultimate solution for building a better body. In fact, studies have shown that too much meat can lead to osteoporosis and a greater risk for injury.
Animal meat does contain the most complete number of proteins; however, you can safely and easily increase your protein intake without forking down the pork.
Click here to learn about the optimal daily protein intake.
Myth #5: "You can't build muscle, because of your body type."
Fact: Different body types gain and lose weight in different ways.
The endomorph body type is soft and round. It gains muscle and fat very easily, and it's generally short and stocky. People with this body type tend to have slow metabolisms and difficulty losing fat.
People with an ectomorph body type have small frames and bone structures. They are thin, have fast metabolism, and have trouble gaining weight. Their muscle mass is usually lean.
The mesomorph body type is athletic. People with this body type are strong, gain muscle easily, and have well-defined muscles. If you're goal is to get ripped, this is the ideal body type.
You may not have the ideal body type for building muscle, but you can override your genetics and gain muscle. Although it may take a little extra effort on your part, the truth about building muscle is that you can do it with the right diet and a dedicated workout routine
Get the Truth and Get Ripped!
Losing weight and building muscle are primarily a matter of dedicating yourself to a regular routine and a healthy diet. Rather than giving in to the latest fads or simply believing an idea because you "read it somewhere", do a little research for yourself; find the truth about building muscle; and take control of your workout routine.
The more you know about how your body works, the better prepared you'll be when you hit the gym. So don't let these muscle building myths hold you back from sculpting your perfect body.