Staunch Whey Review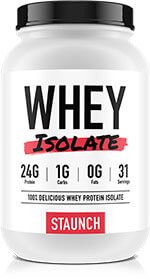 Staunch Whey Isolate may be new to the world of supplements, but it's founder, Calum Von Moger, is not. 3X Mr. Universe, he has built a legacy for bodybuilders to follow and has perfected his supplement regimen to ensure the best gains.
But do these supplements only improve his gains?
The Staunch brand is new and unique in the fact that each of their supplements hit you like a bullet train, but probably the most calm and well built of their products is the whey isolate. This supplement is manufactured to help improve the gains of anyone who uses it, an attempt at a universally excellent protein which has already begun to prove itself.
Since its inception, just a few months back, Staunch has quickly surged to the top of every review page, and for good reason.
Click here to learn more about Staunch Whey Isolate
First Impression of Staunch Whey Isolate
My honest first impression of this supplement was that it tasted REALLY GOOD. This is excellent because most whey isolates, especially with as little sugar as this product has, are usually gross. Or at the very least, bland. But the Staunch Whey Isolate has found way to make the most common flavors delicious and craveable.
There are three flavors available at the moment, all of which are classic ice cream flavors with a little Aussie twist. Hot Chokkie (hot chocolate), Caramel Van Mocha (my favorite), and Vanilla Ice Cream. While they are all quite simple, there is a little something for anyone in these flavors, which makes them a lot easier to want to take following a tough workout.
Tastes and flavoring options aside, there is very little sugar in this supplement. There is the artificial flavoring sucralose, but it is at such a low level that it's barely mentionable. It does contain natural and artificial flavors, but those would largely be made up of, for example, coffee flavoring.
The macronutrients altogether are noteworthy, carbs only take up 2 grams of the overall composition while protein takes up 24 grams of the 30.97 grams per scoop. The rest are spread through sodium, vitamins, minerals, and small amounts of fillers and mixers.
This supplement was built with a steady and clean diet in mind, as well as with the ability to drink it by itself or mixed with other delicious ingredients.
Digging Deeper into the Staunch Whey Isolate formula
Whey Protein Isolate: Whey protein is produced and contained in 3 ways. Whey Isolate, Concentrate, or Hydrolysate. Isolate is the second most potent of the three, Hydrolysate being the first. Isolate guarantees a cleaner protein without the cost of hydrolysate. It has medium chain amino acid which make it easier to digest and be transported through the muscles to assist in muscle building. This is part of what gives Staunch a step up in overall protein quality while helping them arrange a better price for customers.
Cocoa Powder: Cocoa powder is a great additive, and not just for the delicious flavor, but also because it contains several necessary vitamins and minerals and has also been tied to improved cardiovascular health.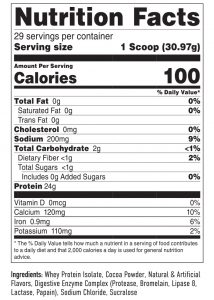 Natural and Artificial Flavoring: For many, this part of the label will scare you off, but the natural and artificial flavoring is simply in regards to the specific ingredients that needed to be added to get the specific flavor. For example, in order to get the coffee flavor, the natural flavor would have been coffee extract, while the artificial flavor would be propylene glycol, which helps enhance the flavor. Both are entirely edible and found in most coffee tasting candies, drinks, or supplements.
Digestive Enzyme Complex: This complex contains 5 enzymes whose sole purpose is to break down each part of the whey isolate as well as any additives or ingredients you choose to add in. It is entirely necessary for protein supplements to contain some sort of digestive enzyme because it can be difficult for certain people to digest these proteins. Especially important to note is the inclusion of lactase, which is purely to provide an option for extreme lactose intolerant people to have a chance to digest this supplement with far less issues.
Sodium Chloride: The addition of sodium chloride is purely for preservation, but it can also be said to be used to enhance flavors and to help the body absorb specific nutrients.
Sucralose: Sucralose is also used to enhance flavors, it is an artificial sugar and as such it requires much less in order to impact the taste.
Will It Really Work?
For all intensive purposes, yes. But it does require some work. As most of you already know, protein supplements are created to enhance protein synthesis, which will allow muscles to grow larger following strain and breakage. This creates a requirement that you get to the gym in order to see any real results.
Staunch's Whey Protein Isolate contains 24 grams of whey isolate, which is an easily broken down and absorbed form of protein. This guarantees that as long as there is a way to apply the amino acids, they will provide necessary nutrients for legitimate muscle growth.
If you are an avid gym-goer already, this supplement may be a perfect addition to your routine. It's premium formula has been tried and tested by Calum Von Moger, one of the most famous and successful bodybuilders in the world.
What Do Users Say?
While this product has yet to reach the world of Amazon, the general feeling across the internet is that this product is quality. Usually meeting 8/10-10/10 product reviews, the only real complaints have been in regards to the boring packaging and the fact that this supplement is not from grassfed cows.
But if you are able to get past this and get into a clean cut whey protein isolate you will be getting a killer deal on a quality product.
Is Staunch Whey Isolate Safe?
Yes, 100% safe. There aren't any harmful chemicals or ingredients added. Although we don't recommend it if you are lactose intolerant. While there are some measures put in place to help with digestion it won't cover all needs, so don't take this without talking to your physician first if you are lactose intolerant.
What to Know if You're interested in Buying Staunch Whey Isolate
If you are interested in this product you should know that it has a 100% money back guarantee, probably the best part of this product. So if for some weird reason your body doesn't respond well to this product, Staunch guarantees a full refund, minus the cost of shipping and handling.
What is also important to note is that it is currently only sold at staunchnation.com, which is the official website for all Staunch gear. This is a great benefit because you will not be dealing with any additional costs to cover additional marketing or placement, which means you're getting it literally at the best price possible. And that price is ridiculously low for the quality of product you're getting.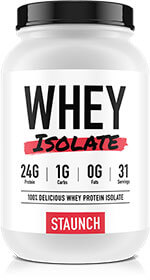 Tips for Best Results
As I've said before, this supplement doesn't work unless you're working out as well. Most protein supplements will do nothing but provide the base amino acids you need to build muscle, but in order for those to be applied you have to set up the best environment for muscles to grow.
If you're planning on using this for a lean bulk each of the flavors do play well with others, so you can come up with a variety of shakes that will satisfy your needs even when drinking them twice a day. And Staunch also offers a deal for a 3 month supply, which gives you the chance to try all 3 of the flavors to see which are your favorites!
Final Thoughts
Staunch is still new to the program, but they're showing more and more promise as they continue on. There is nothing particularly scary or new about this specific product, which provides a great basis for assuming it will work. Not only that but each of the major ingredients have great added health benefits.
I would recommend this product as a great chance to get something of quality for a great price. You're going to see improvements as you continue to use this as intended, which is the basis for any supplement.
For the price and quality of this product, I highly recommend it. You're going to be hard pressed to find something better.