Sportrontic TriPro3 Review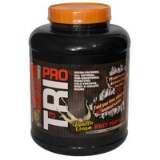 "Forging the future of fitness", Sportronic has introduced a new whey-based protein powder named TRiPro3. Packed with vitamins and protein, TriPro3 claims it boosts your performance in the gym and gives you rock-hard muscles.
We investigated TriPro3 to see if there's any reason to choose TriPro3 over other more established protein supplements already on the market.
What's in TriPro3?
TriPro3's formula is focused on delivering large amounts of whey protein to help you boost athletic performance and build muscles.
Whey protein isolate. This ingredient is the most concentrated form of whey protein available. One of the most popular ingredients in protein supplements, whey-based protein is easily absorbed, rich in protein, and low in fats and carbohydrates.[1] Protein is used to build and repair muscles and also works as an appetite suppressant.
In addition, whey-based protein provides the body with high concentrations of branched-chain amino acids (BCAA). BCAAs have various health benefits, especially for lean muscle health. BCAAs are absorbed quickly and facilitate protein synthesis and lean muscle development. BCAAs also inhibit lean muscle tissue degradation,[2] meaning BCAAs fight muscle fatigue and allow for longer, more intense workout sessions.
Whey protein concentrate offers the same benefits that whey protein isolates. The only difference between the two is that whey protein concentrate is less refined and contains more calories.
Whey peptides are similar to other whey ingredients, except peptides are simply smaller chains of amino acids.
Dextrose is another name for glucose, a carbohydrate and the most important simple sugar in human metabolism. Glucose serves as the main energy source, is easily accessible, and improves athletic performance.[3]
TriPro3 provides a very whey protein-based formula that appears to promote better athletic performance and lean muscle growth, as well as inhibit appetite.
However, TriPro3 does not provide the individual amounts of each ingredient so the formula's overall effectiveness is difficult to ascertain. Adding to this uncertainty is the fact that there are no user reviews on the product.
TriPro3 has potential but we don't see anything unique or particularly effective in its formula.
Is TriPro3 Safe?
Generally, TriPro3's whey protein-heavy ingredients are safe but have been known to cause minor side effects. Reported side effects from whey protein ingredients include bloating, nausea, headaches, and cramps.
To minimize the severity of these possible side effects, make sure to drink to plenty of water.
How Do You Take It?
Mix two servings (one scoop) with 4-6 ounces of cold water or milk. For better results, mix four servings (two scoops) of TriPro3 with 8-12 ounces of cold water or milk.
What About the Price?
TriPro3 can be purchased online from a few vendors. BodyBuilding.com sells a 5 lb. tub of TriPro3 for $49.71. TriPro3 can also be purchased at DPSNutrition.net for $47.97 for a 5 lb. tub.
It's nice to see a company believe in its product enough to back it with a guarantee. Unfortunately, it doesn't appear that Sportronic has a guarantee on any of its products.
Is TriPro3 a Good Choice?
At this point, we don't see anything in TriPro3 that persuades us to use it. In fact, we're having a difficult time seeing TriPro3 as the "future of fitness", it barely keeps up average protein powders.
While the ingredients are solid, they're found in basically every whey protein supplement. Also, since there are no user reviews on TriPro3, we can't even tell if its formula actually works. When you add those facts to Sportronic's refusal to back the product with a guarantee, TriPro3 doesn't look like the best choice for a protein powder.
Other whey protein-based supplements have proven formulas and are backed by guarantees. Try one of those and put TriPro3 back on the shelf.
If you have tried TriPro3? Let us know what you think by leaving a comment below!