Nature's Plus Spiru-Tein Review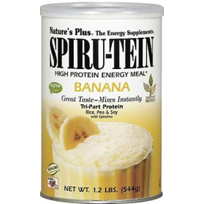 Most crash or fad diets are meant to help you lose weight, but there is nothing in them that helps you to retain your fitness. For that reason, many are looking now to supplements that wil help them to lose weight and work comprehensively with their body to keep it off.
Nature's Plus Spiru-Tein Protein Powder is a broad spectrum formula that can effectively help you to get a gluten free, tri part protein and a heart healthy formula. With Nature's Plus Spiru-Tein Protein Powder, you will finally be able to get all natural soy, and this high energy protein meal will give you the complete approach that you need.
The manufacturers of Nature's Plus Spiru-Tein Protein Powder talk about scientifically engineered results for more than just protein. If their ingredients are scientifically studied and proven, their product is sure to impress. However, we want to look a little deeper to see whether it actually works or not.
The Good
Nature's Plus Spiru-Tein Protein Powder has a full list of essential vitamins good for the body in general. It also has a long list of amino acids which can feed muscles and help you to achieve greater athletic performance in some cases.
Many of the consumer reviews we found mentioned that it had a good taste and at least three of them said it was the best shake they had ever taken.
The company provides ways to get free samples, and many consumers suggested trying the samples to see whether you would like the taste. They also commented that the company shipped the product very quickly.
The Bad
Nature's Plus Spiru-Tein Protein Powder has a mere 14g of protein. Protein is the most important part of a protein supplement, obviously, and yet they use about half of the bare minimum that should be used.
Ultimately speaking, the fact is that all of the vitamins in Nature's Plus Spiru-Tein Protein Powder are not going to build muscles, and considering the small amounts of amino acids, it also is not going to give you the greater benefits that you would need.
Some consumers mentioned that this product does not mix very well. Some had to consistently use blenders in order to get the right consistency. Even then, some found the texture very chalky.
The Skinny
Though Nature's Plus Spiru-Tein Protein Powder does include some good ingredients, there is not enough of them to make a huge impact on your body.
It will not give you much of what you need, and ultimately speaking, Nature's Plus Spiru-Tein Protein Powder is not for everyone. Those that simply need a protein supplement to add a little extra protein into their diet may find some benefits with Nature's Plus Spiru-Tein Protein Powder, but it does not provide enough protein or amino acids to help those that are trying to get the most out of intense workouts or built up their muscles.
Considering there are other supplements that are similarly priced and provide enough protein to be effective, we suggest looking elsewhere.