Six Star N.O. Fury Review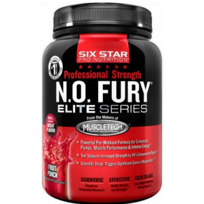 As most body builders already know, one of the most exhilarating parts of weightlifting is feeling your veins pumping under massive muscles.You feel like you've left the planet and entered some kind of bodybuilding Valhallla.
To amplify this experience Six Star has developed N.O. Fury. Six Star N.O. Fury acts as a nitric oxide booster to to help your veins pump insane amounts of blood into your muscles. According to manufacturers, this powerful pre-workout supplement increased test subjects' strength by as much as 94% compared to the placebo group – impressive to say the leaast.
We've seen hundreds of other supplements that are meant to do the same thing, but is there anything that sets Six Star N.O. Fury apart from the competition? Let's find out.
About Six Star N.O. Fury
If you're looking for enhanced pumps, Six Star N.O. Fury should have what you need. It's proprietary blend contains arginine, a vital nitric oxide precursor.
Nitric oxide is produced when the body breaks down arginine. When exposed to the lining of arterial walls, nitric oxide causes veins to relax and dilate. This means they can carry more blood into the muscle. More blood means more strength, better function, and faster recovery.
Six Star N.O. Fury also impressed us by adding creatine monohydrate, which is one of the most effective muscle-building supplements in the industry. Studies have shown that creatine can cause the muscle cells to inflate, resulting in a rush of fluid and other nutrients directly to the muscles when and where you need it most. When used correctly, creatine can dramatically increase muscle volume, size, and strength so you can sculpt the body you've always wanted.
Does Six Star N.O. Fury Really Work?
While this product should be effective, Six Star N.O. Fury has nothing to make it unique. There are plenty of other products out there with similar formulas that accomplish the same things. We would have liked to see Six Star N.O. Fury break the mold at least a little bit.
Instead, Six Star N.O Fury hides its ingredients behind a proprietary blend, which makes us question whether or not the concentrations are in their clinically proven amounts. Although manufacturers may have their reasons for hiding such information from consumers, such a technique should automatically send up a few red flags when it comes to purchasing a supplement.
Despite the fact that Six Star N.O. Fury uses amazing muscle-building ingredients, there's no guarantee that this product will give you amazing muscle-building results. If the concentrations are too small, you won't see any results. On the other hand, if the concentrations are too big, you're paying extra money for ingredients that your body can't use anyway and you may even experience negative side effects. Until we know more information about the specific ingredients inside Six Star N.O. Fury, it's difficult to determine whether or not this product will really work.
Conclusion
If you can find it for a good price, we are fine with recommending Six Star N.O. Fury, simply because consumer reviews are generally positive. Although you'll need to stack it with a protein for the best results, it should add a good dimension to your workouts. It's by no means the best product we've seen of its kind, but it should get the job done well enough.