Six Star Casein Protein Review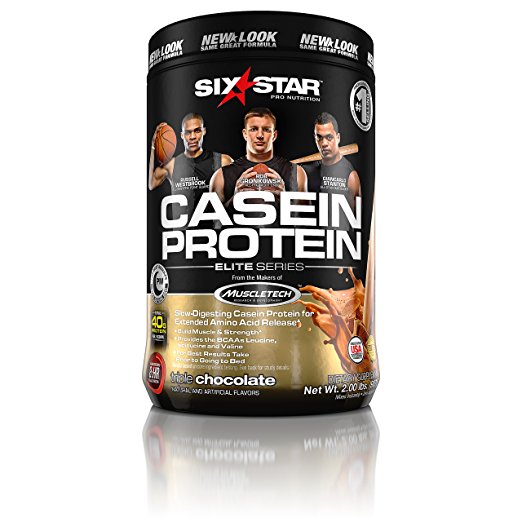 We all know the body needs lots of protein to produce the best muscle building results.
The problem, however, with most protein supplements is that the body does not have enough time to use all the protein its supplied with in a typical serving, which means that you're paying for protein you don't use. Fortunately, MuscleTech unveiled Six Star Casein Protein.
With casein protein blends found in this supplement, you can supposedly supply your body with hours of prolonged protein release. Casein helps slow the digestion of protein so you can experience its benefits longer. Additionally, Casein is also great for recovery in that it helps your muscles regenerate long after the workout is over.
But is Six Star Casein a one star formula? Keep reading to find out!
About Six Star Casein Protein
Six Star Casein Protein is good because not only does it contain a casein matrix to help the body use more protein over longer periods of time, it also has BCAA's and Creatine Monohydrate. The BCAA's are perfect triggers for protein synthesis and can be used to build lean muscle mass.
The Creatine Monohydrate content on the other hand, helps the body use the protein its getting from the supplement by helping muscle breakdown so they require more protein to be rebuilt. Creatine Monohydrate increases levels of ATP which supplies your muscles with more fuel to lift heavier weights for better muscle building results.
Unlike other protein powders and supplements, Six Star Casein protein is low in carbs and sugars, and offers as much as 25 grams of protein in a single scoop.
On the other hand, I feel that consumers should always exercise caution before using a proprietary blend of any supplement – after all, you never quite know what you're getting. While Six Star Casein Protein seems like a fairly reliable product, it's difficult to tell if it uses the ingredients in clinically proven amounts.
The Price
Fortunately it is available in stores like Walmart for around $20 per 1.5 lb. It's pretty affordable, so if you're just starting to experiment with protein supplements, then it might seem like a good option. On the other hand, if you're used to taking protein supplements on a regular basis, the tub can be a little small considering the price.
The Flavor
Six Star Casein Protein is available in Triple Chocolate, which many consumers have found tolerable but a little "manufactured." Many consumers complained that the formula was hard to mix, making it difficult to drink with all the clumps.
Conclusion
Overall, Six Star Casein Protein does offer a solid product. Using it, you'll be able to supply protein to damaged muscles in a staggered, time released way so you can get the very most out of each gram of protein you buy. Add on top of that Six Star Casein Protein's creatine content and BCAA's and you'll be seeing drastic gains in muscle in little time at all.
Many consumers reported that they saw great muscle gains with this supplement, and because of it's available in grocery stores such as Walmart, it's definitely worth looking into.