S.A.N. Myotein Review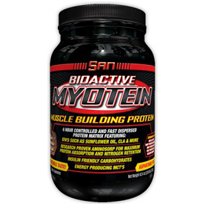 There are so many different types of protein to choose from. How do you know which one is best? With S.A.N. Myotein, you don't have to pick and choose.
Instead of typical whey protein, S.A.N. Myotein has a blend of different muscle-building proteins…which is also what XPI Myotein has.
S.A.N. Myotein and XPI Myotein
Other than a similar name, these two products don't have much in common. And yet, people frequently confuse them.
Both products are protein powders, but they come from different companies (S.A.N. and XPI) and they have different formulas.
The S.A.N. Myotein Formula
Here are the types of protein you'll find in S.A.N. Myotein:
• Micro-filtered whey protein concentrate
• Micellar alpha and beta caseins and caseinates
• Undenatured cold filtered whey protein isolate
• Milk protein isolate
• Calcium caseinate
(XPI Myotein has are micellar casein and whey protein concentrate, but all the other proteins it uses are different.)
These proteins are combined into a blend totaling 23 grams of protein per serving (40 grams). The concentrates and isolates are fast-digesting types of protein, so they're good to take right before or after a workout. Isolates are the purest type of protein. Caseins and casseinates digest slower and they're good for promoting muscle recovery and reducing hunger.
S.A.N. Myotein has several additional, non-protein ingredients including medium chain triglycerides, flaxseed powder, conjugated linoleic acid, and rice bran.
What Are the Facts?
In every serving of S.A.N. Myotein there are:
• 178 calories
• 6 grams of fat
• 10 mg of cholesterol
• 89 grams of carbs!
• 4 grams of fiber
• 1 gram of sugar
• 23 grams of protein
These numbers are typical of what you find in protein powders like XPI Myotein and Gold Standard Whey Protein; with the exception of carbs. XPI Myotein and Gold Standard Whey Protein only have 7 and 3 grams of carbs.
Does S.A.N. Myotein Cause Side Effects?
I can't say for sure whether or not S.A.N. Myotein will cause side effects. I was only able to find a handful of user reviews online and none of these mentioned side effects. But this doesn't mean there aren't users who experience side effects.
S.A.N. Myotein doesn't have harmful ingredients or stimulants. But if it uses large doses of certain ingredients, you may experience some initial side effects until your body adjusts.
S.A.N. Myotein has milk, soybean, and wheat ingredients.
The Flavors & Taste
S.A.N. Myotein comes in three flavors: Berries & Cream, Rich Chocolate Delight, and Vanilla Cookies & Cream.
Unfortunately, I've read a lot of negative reviews about these flavors. One user described the taste as "grey, rotten milk".
There's no word on how well S.A.N. Myotein mixes. If you have trouble mixing it–if it's lumpy or sticks–I recommend mixing it in a blender instead of a cup. Add the liquid first and then the powder to prevent it from clumping on the bottom.
You can mix it with milk, water, or juice. Users also like to put it in smoothies, which might help mask a bad flavor.
How to Take It
You can take S.A.N. Myotein at any time of the day, but I think you'll get best results by taking it before and/or after a workout. For an effective dose of protein, I suggest taking 2 scoops a day, but take each scoop at a different time.
For every scoop you use, add at least 5 ounces of fluid.
Where to Buy
S.A.N. Myotein is no longer available on the official website. I don't know why they don't carry it anymore or if they've replaced it with a new protein powder.
I could only find one site that still sells S.A.N. Myotein: www.mysportnutrition.com. On this site, you can get a 2.65 lbs. container for $31.67. Since this product is quickly going out of stock, it probably won't be available much longer.
Is S.A.N. Myotein a Good Protein Powder?
I like that S.A.N. Myotein has a blend of fast and slow-digesting proteins. Usually, you'd have to buy two different products to get the benefits of both ingredients. Because of this formula, I think S.A.N. Myotein would be a good product for people who want to build muscle, preserve lean mass, and reduce recovery time.
The downsides to S.A.N. Myotein are that users complain about the taste and I couldn't find more than a few reviews; which weren't very positive. The fact that the official website no longer sells this product is also a concern. Why did they stop making it?
If you want a high-quality blend of fast and slow-digesting proteins, I highly recommend that you look at XPI Myotein. Unlike S.A.N. Myotein, XPI Myotein gets a lot of positive feedback from users, who say it works and tastes great. XPI Myotein is also rated the #1 protein powder year after year.
Have you tried S.A.N. Myotein? Do you have more information about it? Please leave a comment below!