Rockin N Roll Bar Review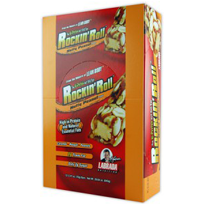 Snacking on a protein bar can be a nice way to mix up your snack routine if you're sick of eating the typical trail mix, apple w/ peanut butter, etc.
Packed with protein and other nutritional contents, most protein bars are a great way to give your body the energy and fuel it needs so that you can live a fit and healthy lifestyle.
In addition, protein bars are normally pretty tasty as well. That said, not all protein bars are as nutritious or tasty as they may seem. In this review, we're going to take a brief glance at one protein bar in particular, known as the Rockin N Roll Bar. Made by Labrada, this protein bar claims to be just as tasty as it is healthy.
But what do we think?
What Does Product Do?
As we mentioned above, protein bars like the Rockin N Roll Bar are meant to supplement users with carbs, protein and other nutrients a body needs on a daily basis so that you can live an active, healthy and fulfilling lifestyle.
Granted, you're not going to find the same dosage amounts in a protein bar as you would a regular protein powder, but then again…protein bars are catered more towards muscle-building and major performance gains.
The Rockin N Roll Bar, on the other hand, can be used for a variety of different means. It serves as a pre-workout supplement, a post-workout supplement, a snack that can thwart midnight cravings and more.
Basically, you can take this product whenever you want if you get hungry or need more energy.
Anything To Be Worried About?
Now then, are there any causes for concern with the Rockin N Roll Bar? Often, we'll find reasons for concern when checking out a product's ingredients label.
This may be due to a missing and crucial ingredient, low dosage amounts or ingredients that may cause undesired side effects.
That said, we found no such worries with the Rockin N Roll Bar's contents. This product seems both safe and effective.
A quick glance at this protein bar's contents will notify a customer that it contains 26 grams of carbs, 23 grams of protein, 8 grams of fiber and 13 grams of essential fats in each serving. In addition, it has no trans fats, only 2 grams of sugar and is very low in terms of its cholesterol and sodium count per serving.
All in all, the Rockin N Roll Bar's blend is designed to provide exactly what this product promises to do…that is to serve as a healthy and nutritional snack that can be used to boost a user's activity level and to stave off unhealthy cravings.
Now, we should mention the fact that each box of this product will cost around $20 to purchase. With 12 bars in each box, this amounts to a price of $1.67 for each bar. While this listed price is not outrageous by any means, it may still be too high for some customers to consider.
You may want to take this product's price into account if you're currently on a tight budget or like to spend frugally.
Would You Recommend Product?
In conclusion, we don't see we should be stopping others from trying the Rockin N Roll Bar. As such, we DO recommend the use of this product unless you're allergic to nuts or don't have the money to afford it.