Rivalus PROMASIL Review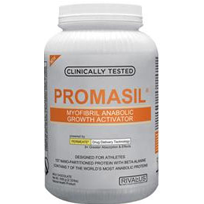 Different protein powders incorporate certain formulas or ingredients to give their product the edge and bring better success and results to you.
Though Myotein and other top products are known for their effective and unique formulas, Rivalus PROMASIL has taken muscle gain in a different direction.
Rivalus PROMISAL is composed of several essential vitamins, beta-alanine, and several protein strands that have been microscopically filtered for their purity.
Taking PROMASIL daily is intended to foster more rapid recoveries from workouts, the growth and production of lean muscle, and a reduction in excess body fat.
Ingredients like those listed are great for helping with these processes, but only if they are added in the right doses. Let's see if Rivalus PROMASIL is up to the task.
About Rivalus PROMASIL
PROMASIL contains two ingredients we really like. One is whey protein hydrolysate while the other is calcium caseinate. Whey protein hydrolysate is protein that has already been partially broken down and digested so your body can absorb and put it to use more quickly and easily.
This protein can be converted into muscle within just minutes.
On the flip side, PROMASIL gives you calcium caseinate. This protein complex is designed to digest much more slowly. As it gradually breaks down, proteins are released and absorbed so the muscles have sustained access to them even hours after ingestion.
Will Rivalus PROMASIL Really Work?
As many of you may know, carbohydrates are great inclusion to any protein shake. Looking over the nutritional content, we noticed that Rivalus PROMISAL is completely devoid of carbs.
Carbohydrates are needed during exercise for their ability to break down and provide the body with energy and nutrients. Without it, your muscles won't grow as fast and recovery will take longer.
Sadly, carbohydrates could have pushed this product to the next level.
Though they do include some good amino acids and BCAA's, they are all provided in a proprietary blend that may or may not give the best doses.
Also, there are only about 20 grams of protein included in the formula, which is not enough to create effective extra muscle build.
Conclusion
Rivalus PROMASIL is a pretty good product, which isn't a huge surprise. The bodybuilding supplement market is stuffed to the gills with pretty good products. The issue with PROMASIL isn't then if it's good.
The issue becomes, is it the best?
In your search for a protein shake you should really be searching for superior products. To be honest, PROMASIL falls into a lower category. By settling for supplements that barely cut it, you sell yourself short.
So be good to yourself and find the best product you can before you go spending your money. There are better alternatives out there than PROMASIL.
One of those that might satisfy your desires for the best protein powders is Myotein. This protein powder does use protein in adequate doses, but also includes carbohydrates to help you stay energized as you work out and recover and build muscle for hours after you've left the gym.