Pure Pro Powder Review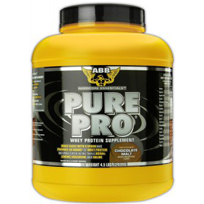 Created by ABB, Pure Pro Powder is said to be the ultimate whey protein on the market, offering up to 40 grams of protein for the "hardcore athlete." Since whey is one of the best sources of protein on the market, consumers can't help but flock to this supposedly powerful protein supplement.
Theoretically, Pure Pro Powder will provide you with the best natural amino acids for your success, and consequently, you just might be able to improve muscle recovery for far better results every time your hit the gym.
But the question is, does Pure Pro Powder actually work? Does Pure Pro Powder actually give you any of the protein based benefits that you are looking for? Let's take a closer look at what this product really has to offer.
About Pure Pro Powder
Pure Pro Powder does have some potentially strong amino acids. With these amino acids, you could ideally speaking feed the muscles while improving overall athletic performance with BCAA's. You also get about 20g of protein per scoop, which gives you up to 40-60 grams of protein per day depending on how often you choose to take it.
Depending on your current workout regimen, 20 grams of protein may be just what you need to fulfill your protein needs without going over the daily recommended amount. However, if you feel that you need more protein on a regular basis you can adjust your dose. Keep in mind, however, that the body doesn't store protein it can't use, and it can only absorb about 25-30 grams in one sitting, so you'll want to spread out your consumption throughout the day.
The Taste
Pure Pro Powder is available in two different flavors: infusing chocolate malt and infusing strawberry banana. Consumer feedback reports that the taste is surprisingly good and it mixes well in water, unlike other protein powders that form a gritty texture that's hard to choke down.
Pricing and Guarantee
Abb Pure Pro Powder is available through multiple online sellers and vendors for around $42.99 for a 4.5 lb bottle. While this isn't the cheapest ingredient on the market, consumers seem to think that it's worth the investment, as the ratings are fairly positive.
Although we couldn't find a guarantee on the product, ABB performance beverages are some of the most reliable products in the industry, so it may be worth it to try it anyway.
Conclusion
Abb Pure Powder is highly recommended by consumers, so naturally you might want to give it a second glance. Although it's not the purest protein on the market, it seems to be strong enough to get the job done, providing plenty of protein to meet the average athlete's needs without overdoing it.
The biggest complaint we have is the price, because if you're going to pay that much for a protein powder, you may as well get the very best you can find. There are certainly more budget-friendly formulas on the market that offer more muscle-building protein and amino acids for your money, so be sure to check out our top five products and compare them before investing in Pure Pro Powder.