Proto Whey Review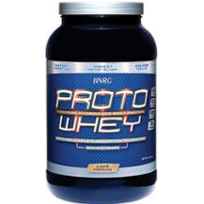 For many athletes and bodybuilders, maintaining a high performance level is of the essence if they want to do well in their careers.
As such, these men and women often use the help of protein powders to help them enhance their energy levels and anabolic states.
On the same hand, you don't have to be a professional bodybuilder or athlete to reap the benefits a protein powder. Any average Joe or Jane who is a regular exerciser can benefit from using a protein powder and if you're looking to create a picture-perfect body, adding a protein powder can provide you with many benefits on your way to that goal.
Proto whey is a protein powder that has been designed to not only provide your body with a good amount of protein, but to give you the ability to maximize your workouts, build lean muscle, train harder throughout your entire workout, and allow for a better and faster recovery so you can return to the gym quicker.
Proto Whey Specifications
Proto Whey isn't just your average protein powder because it is formulated with 100% Pure Hydrolyzed Whey Protein, a protein that is much thinner and will allow your body full and increased absorption.
Several things separate this type of protein from the rest. First of all, its molecules are smaller than your average protein molecule. This is due to the fact that they've been diced up into smaller pieces by enzymes in an action called hydrolyzing.
Second, not many proteins are 100% pure. Because Proto Whey contains 100% pure protein, it is actually a tad more powerful and effective compared to some of its competitors.
Lastly, Proto Whey's protein is made up of di- and tri-peptide bonds which allow it to be fast-acting and very absorbent.
Overall, these three factors make Proto Whey different than many protein powders on the market and a protein powder that's extremely effective and efficient at building up a body's anabolic state.
Proto Whey Pros
Besides providing you with a good amount of protein in each serving (20g, 40% daily value), Proto Whey also provides you with important vitamins and minerals to give your body important nutrition for your intense workouts.
Proto Whey isn't a protein powder that requires you to mix in a blender, just stirring with water, milk, juice, tea, or other liquids will do the trick.
Because Proto Whey is hydrolyzed whey protein the mixability, absorption, and overall benefits of Proto Whey is improved.
Proto Whey Cons
Proto Whey contains milk and soy and may cause allergen problems if you're a lactose intolerant individual.
Proto Whey contains caffeine and should not be used if you have sensitivity to caffeine or stimulants.
Overall Impression
Overall, Proto Whey is surrounded by positive customer feedback with users raving about the effectiveness and taste of Proto Whey.
If you're looking to add a protein powder to your diet we're confident that Proto Whey would be a good option and will help you build lean muscle mass, increased energy, increased workout time, and a faster recovery.
However, because Proto Whey is a powerful dietary supplement we suggest you first consulting with your healthcare professional to further determine if Proto Whey is the best protein powder for your specific needs.