Protein 2Go Lemonade Review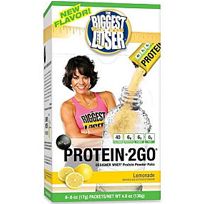 For most protein powder users, the goal is to get bigger, stronger and faster. That's why they fill their bodies up with amino acids, enzymes and proteins to induce muscle-building.
But contrary to popular belief, not every protein supplement is designed to reward users with a muscular frame. Take the product, Protein 2Go Lemonade, for example. Featured on the hit reality TV series, The Biggest Loser, Protein 2Go Lemonade is known for its ability to help users lose weight rather than gaining it.
Filled with antioxidants and fiber, Protein 2Go Lemonade is not your ordinary protein supplement. But its just as effective as other leading protein supplements – just in a different way.
In this review, we'll go over the basics of Protein 2Go Lemonade as we try and help you determine whether this product is a right fit for your health and fitness goals.
A Thorough Cleanse
As we noted above, most protein supplements are marketed as being heavy hitters that will load your body up with the nutrients it needs to get strong and big.
But as a supplement that primarily promotes weight loss and a faster metabolism, Protein 2Go Lemonade features a blend that contains a high amount of fiber and Vitamin C, which is considered an antioxidant.
Along those lines, Protein 2Go Lemonade is very capable of giving your body a thorough cleanse, eliminating free radicals and unwanted waste that may be hindering your ability to lose weight.
In addition, Protein 2Go Lemonade contains no fat and is pretty low in calories with 40 found in each serving. Lastly, there is indeed 6 grams of Whey Protein Isolate contained in every serving of this product as well.
These 6 grams may not be enough to induce anabolic growth, but it is enough to help boost energy levels to the point where an individual can exercise properly in order to enhance their metabolism.
Cost Factor
Not only does Protein 2Go Lemonade provide you with the nutrition you'll need to begin getting into shape, but it does so at a relatively cheap price.
Although its manufacturers have marked it down at the price of $14.49 per 8 packets/servings, you can find Protein 2Go Lemonade for much cheaper.
There are a number of other online retailers who will give you a good deal on this product because it sells so successfully. For example, we found a site that sold this product for just $9 per 8 packets/servings.
Taste and Ease-Of-Use
Along those lines, Protein 2Go Lemonade is also very easy-to-use. Rather than having to measure the powder yourself or remember how many scoops equate to one serving, Protein 2Go Lemonade comes in packets that amount to one serving.
All you'll need to do is combine one packet of powder with a glass of water, and you're set. Further, there are no other usage guidelines associated with this product. You can drink it in the morning, midday or evening whether you're trying to give yourself energy for the day or simply as a way to control your cravings.
Before we end, we should also mention Protein 2Go Lemonade's taste value. While most protein powders tend to be very thick and hard to swallow, previous and current users have compared the taste of this product to Crystal Light or any other lemonade drink you'd prepare in the summer.
In other words, Protein 2Go Lemonade is much tastier than your average protein powder.
Final Word
In conclusion, Protein 2Go Lemonade obviously caters to a specific niche of people – those who are out of shape and overweight.
If you feel that you fit into this category, we promise that this protein drink will help you along your path to fitness and good health. Its obviously not going to do the job for you, but its a solid stepping stone in the right direction.