Prolein Review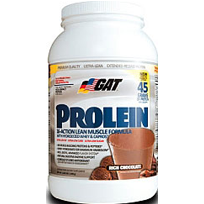 As human beings, we're often inclined to believe that we can do things, and do them well, on our own. Call it a bad case of self-sufficiency if you will.
It's why we hate asking for directions when we're lost, why we hate calling our mothers when we've ruined a recipe in the kitchen, and why we're embarrassed to hire a tutor for a tough class at school or an assistant at work.
Getting in shape can be a tough uphill battle, which is why it's always wonderful to enlist the help of protein supplements such as Prolein. Created by the company, German American Technologies (GAT), Prolein promises to give you the edge you'll need to build lean muscle mass in an efficient and effective manner.
In this review, we'll take a look at the pros and cons of Prolein, as we help you decide whether or not this product can truly assist you in winning that battle at the gym.
Prolein Ingredients
First of all, Prolein boasts of a proven formula that includes proven ingredients found in proven amounts. Speaking of proven amounts, Prolein contains 45 grams of "goodies" in each serving. As for its proven ingredients, you can find a number of quality amino acids, peptides, and proteins in Prolein.
Breaking this down further, there are 18 amino acids found in Prolein's amino acid profile. A few of these "essential building blocks" include the likes of big names such as L-Arginine, L-Leucine, and more.
As for the proteins and peptides contained in this product, you'll find them in a sub-blend which GAT has named "Prolein 16-Action Lean Muscle Formula." In this blend, the likes of Whey Protein Concentrate, and Whey Protein Hydrolysate, and other proven muscle builders are found.
Back to the topic of potent amounts, this blend alone contains a dosage level of 24,060mg per serving size!
On top of all that, Prolein also contains a protein-digesting enzyme and an antioxidant to complement the ingredients we've already mentioned. Lastly, Prolein is high in protein, but low in fat, carbs, and sugar, and has absolutely no trans-fats to speak of.
About Prolein
Now then, we're not done quite yet. On top of an impeccable formula, Prolein has also been designed so that it can be "stacked" with any other protein or dietary supplement.
This means that you can combine Prolein with another effective helpmeet in order to boost your physical performance and muscle growth.
We didn't find a whole lot in terms of user reviews and ratings associated with Prolein. As such, we don't know if current or previous users have encountered bad side effects after using this product as well.
Users are warned to consult medical advice before deciding to use and purchase Prolein. But because its contents are made up of natural ingredients such as protein and amino acids, we're not too worried about the safety of this supplement.
Price and Taste
As for that affordable price, we found Prolein discounted at a price of just $29.99 online per tub. You can also choose between three different flavors when you purchase Prolein, including:
•Vanilla,
•Chocolate,
•and Strawberries & Cream.
GAT also claims to make the tastiest products as well, and promises that Prolein will be the best-tasting protein shake you've tried yet!
Conclusion
In ending, although we won't promise that Prolein is the greatest-tasting protein shake known to man, we can assure you that it's a healthy and smart option to consider if you're trying to gain lean muscle mass.
In other words, this product CAN help you to win that battle at the gym as you turn your body into a lean, green, fighting machine!