ProLab Pure Whey Protein Review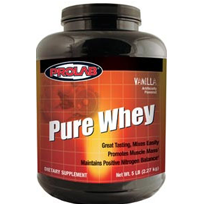 ProLab products are some of the most popular supplements in the bodybuilding industry, and when we heard about their Pure Whey Protein, we couldn't help but be a little curious.
ProLab Pure Whey Protein is advertised as a great tasting, high quality whey protein formula that will help "every kind of athlete" achieve optimum performance. Supposedly this formula will provide you with the building blocks you need to "grow, recover, and improve muscular performance."
Manufacturers would have you believe that With ProLab Pure Whey Protein, you will finally be able to get micro and ultra whey protein and filtration, for the ultimate bodybuilding experience that will exceed all previous expectations. But does ProLab Pure Whey Protein actually work?
The Good
ProLab Pure Whey Protein has 28g of protein, which is a great amount for feeding your muscles and stimulating the production of protein synthesis. Since the body can only absorb so much protein per sitting, 28 grams is just about the right amount for fueling your muscles without wasting the extra protein.
It's also aspartame free – which means you don't have to worry about any potential long-term side effects from this unsafe sweetener.
Additionally, ProLab Pure Whey Protein is available in three different flavors: milk chocolate, vanilla creme, and wild strawberry. Consumer feedback has shown that Prolab is easy to blend and mixes well with real fruit. It offers a great taste, albeit a little sweet on its own; however, a few consumers complained about its chalky texture (which is fairly normal for a protein supplement).
The Bad
Unfortunately, despite the fact that ProLab Pure Whey Protein< has the right amount of protein, this protein powder does not offer the right type. There are different qualities of proteins, and frankly, they have only the lowest grade despite their claims to use a Ultra filtration system. When it comes to whey proteins, purity is absolutely essential, otherwise it cannot be properly absorbed by the stomach and is far more likely to cause side effects than anything else.
The Price
ProLab Pure Whey can be purchased from $40-60 for a 6 lb tub, which makes it one of the most affordable sources of protein on the market. Considering how much protein is offered per serving, a single tub last you quite a while without breaking the bank.
Interestingly enough, you can't buy this particular form of whey protein from the manufacturers any more, as it has been replaced with two different products: Whey Isolate and Essential Whey.
Conclusion
ProLab Pure Whey Protein is not something we would ever recommend using. It does not actually help you to lose weight, burn fat, or improve your workouts. ProLab Pure Whey Protein has only the weakest proteins at best that cannot be properly absorbed.
And without question, there are easily far better options available. The top products listed on our site, for example, provide high quality proteins in the amounts that you would need, and everything else that ProLab Pure Whey Protein does not actually have to offer.