PowerBar Protein Plus Review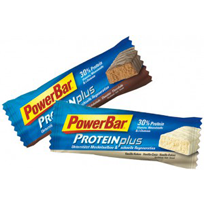 PowerBar ProteinPlus is advertised as the ultimate on-the-go protein bar for athletes. It comes in tasty, succulent flavors rather than in gritty protein shakes, and supposedly offers as much as 30 grams of protein per serving!
But that's not all -PowerBar ProteinPlus also offers 17 vitamins and minerals that will actually give you the exact muscle-building results that you are looking for. The ingredients are all-natural, and its softer texture and great taste makes PowerBar ProteinPlus one of the most ideal ways to increase your natural proteins and give your body the extra boost it needs to recover from an intense workout, or so manufacturers would have you believe.
Yet is Powerbar ProteinPlus really the best way to get the protein you want? I have my suspicions that there is more to this protein bar than meets the eye. Let's take a closer look to see what PowerBar ProteinPlus can really do for you.
About PowerBar Protein Plus
Powerbar ProteinPlus may look like protein turned dessert, but sadly, you're getting more dessert than protein. At 360 calories in a single bar, PowerBar ProteinPlus is little more than a glorified cookie, giving you protein while packing on the extra fat and unnecessary calories. Although you might be able to use it as a meal replacement if you're careful, it's such a small bar that I doubt you're going to get that satisfied full feeling by the time you're finished.
In fact, Powerbar ProteinPlus may actually result in stomach upset rather than any particular muscle-building benefits, as several dieters have reported in various reviews.
With PowerBar ProteinPlus, the fact is that you are not going to get any greater results, simply because the manufacturers use extremely low-quality proteins in the formula, which are difficult to digest and absorb.
Product Pricing
You can buy PowerBar Proteinplus directly from the manufacturers for $32.99 for a box of 12 – which divides out to about 2.74 per bar – which is twice as expensive as your ordinary candy bar. When you consider that the typical protein powder offers about 30 grams of protein per scoop and is sold in enormous bottles for about the same price, it makes you wonder if PowerBar is simply trying to con you into buying an expensive junk food rather than an actual supplement for building muscle.
The Taste
PowerBar ProteinPlus is available in two flavors: chocolate brownie and dulce de leche. Consumers love the flavor, so PowerBar definitely got at least one thing right with their formula. However, it's so tasty, that you may end up eating more powerbars than you should – packing on the extra calories that can take hours to work off in the gym.
Conclusion
We would not recommend using PowerBar ProteinPlus on the fact that it lacks ingredients to help you lose weight (and the extra calories aren't helping either) and it's protein quality is fairly low.
Although PowerBar is definitely delicious and can give you some extra protein if you need a boost now and then, you probably would be better off spending your money on a proven supplement.
So obviously enough, we would definitely recommend that you look into other options.