Power Milk Review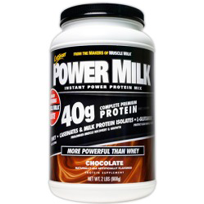 CytoSport, the makers of Muscle Milk, have developed a new product called Power Milk. This supplement is a protein blend containing an impressive array of protein types.
Like any other protein powder, its designed to build muscle and hasten recovery. But as always, we want to know if it has anything that can produce these benefits better than the competition. Let's take a closer look.
About Power Milk
As mentioned above, Power Milk contains a good variety of different protein types. In every scoop you'll find Whey Protein Concentrate, Calcium Sodium Caseinate, Milk Protein Isolate, Whey Protein Isolate, and Whey Protein Hydrolysate.
With these different types, Power Milk provides muscle building proteins immediately and over the course of hours. This is great to help you make use of every bit of protein included in this product. Power Milk will thus help you build muscle and recover in the short and long term.
Will Power Milk Really Work?
Beside a varied list of proteins, Power Milk doesn't have much else going for it. The first shortcoming we see is only containing 20 grams of protein per serving. That's about 5 grams too low. It may not seem like a lot but it does make a difference. Power Milk is also lacking when it comes to its other ingredients.
There isn't any creatine, BCAA's, or other muscle builders. The rest of the ingredients are basically a long list of vitamins, minerals, and nutrients you can find in the most basic multivitamin. These ingredients don't really do much to help boost muscle growth. They may help the increase the body's immunity, vitality, and overall health, but they really serve no vital purpose to bodybuilding.
Conclusion
In all, there just isn't enough to Power Milk to make it worth trying. This supplement is lacking in protein amounts and contains a long list of almost worthless ingredients when it comes to bodybuilding. We definitely recommend looking elsewhere.