Power Crunch by BNRG Review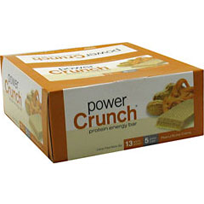 If you're looking for a more convenient and cheaper alternative to protein powders, you may want to consider the ever-increasingly popular, energy bar.
You've probably already heard of ClIF Bars, PowerBars, and the like, but what about Power Crunch by BNRG?
In this review, we'll go over the basics of Power Crunch and let you know whether or not it makes the cut.
Power Crunch by BNRG Ingredients
BNRG tries to sell Power Crunch on several points, with one of the most important being the fact that Power Crunch contains one of the most potent whey proteins in Proto Whey 100%.
Supposedly, because of its structure and makeup, Proto Whey 100% has the ability to be absorbed at a higher and more efficient rate by the body, ensuring that you're getting the most bang for your buck.
That beings aid, BNRG claims that you can eat Power Crunch right before any workout, because its effects kick in right away.
Not only that, but Power Crunch is also very low in carbs and sugar as well. This obviously makes it a healthier treat to give to your kids, and makes it a safe option to consider even for diabetics and those of us with high blood sugar levels.
Of course, low sugar often means that a product may not taste quite as good as well…
Consumer Reviews
Continuing our last train of thought, BNRG promises customers that its healthy makeup doesn't jeopardize its taste. In fact, BNRG says that this is one of the best energy bars you'll ever try due to its succulent crème filling and crunchy wafers.
In fact, the user reviews and testimonials tend to agree that Power Crunch is a pretty tasty treat. If this is truly the case, then users of Power Crunch are basically getting the best of two worlds – a tasty treat that is also healthy as well.
And if you're looking for variety, you can also get it with Power Crunch as it comes in six different flavors including the likes of Wild Berry Crème, Triple Chocolate, and Cookies & Crème.
Lastly, several users have also combined Power Crunch in some of their favorite dessert recipes in order to change things up as well.
What Else Should I Know About Power Crunch by BNRG?
If you're wondering how much Power Crunch costs, you can normally find it at around a retail price of $25 per box. If that's still too expensive for your budget, great deals can be found online as well, starting at just over $13 a box.
Along those lines, we tried to look for the amount of bars placed in each box, but were unable to do so.
Conclusion
In closing, we couldn't really find anything to complain about with Power Crunch. It's affordable, tastes good, and seems to be capable of giving users those extra boosts of energy that they need.
That being said, you can't expect too much from an energy bar. If you're looking to add lean muscle and pushing for massive energy gains, then you'll probably be best suited to consider a protein powder.
But for moderate purposes, Power Crunch is a wonderful option to consider if you want our honest opinion.