Phosphagain 2 Review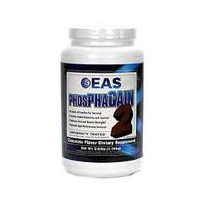 Phosphagain 2 is an all natural supplementing coming from cutting edge EAS.
They claim that Phosphagain 2 will give you 25% more protein than any other supplement in its purest form and with Phosphagain 2, you will finally be able to get those muscle building and stacking results that you are looking for.
With Phosphagain 2¸you will finally be able to get 29 vitamins and minerals and so much more. But how does Phosphagain 2 actually work?
About Phosphagain 2
Phosphagain 2 has 25g of protein, which is rather high as compared to many others. In addition, they have the power of creatine to help them to give you potentially greater energy for your muscles.
Phosphagain 2 does not actually have the right amounts of anything when it comes down to it. With Phosphagain 2¸you are getting only extremely low quality protein that your body cannot naturally absorb. And more than that, there is the fact that they use way too many carbs and really don't provide you with enough creatine for anything but bloating!
Conclusion
Phosphagain 2is not something that we would actually recommend. It looks good at first glance. But you only need dig a little bit deeper to find out the truth about Phosphagain 2.
It does not really go into the finer details that need to be noticed to give you the real results that you want, and we would definitely recommend finding something else that will come through and give you exactly what you are looking for.