Panthera Pharma Primal V 4000 Review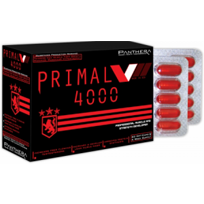 Primal V 4000 is a primarily a protein booster from Panthera Pharma. Though not a protein supplement, Primal V 4000 could be stacked with a protein supplement for more dramatic and noticeable results.
Primal V 4000 uses several tested ingredients to help raise the body's testosterone levels naturally. With more bio-available testosterone, the body becomes the perfect setting for building, strengthening, and repairing muscle.
But does Primal V 4000 work well enough to make it worth using it along side a protein supplement?
About Panthera Pharma Primal V 4000
To assess Primal V 4000's effectiveness, let's look at it's ingredients. Catching our attention most are two particular components. The first is the glycosaponins derived from Eurycoma Longfolia.
This all natural extract has been proven in several studies to help the body produce and release more testosterone into the bloodstream. Primal V 4000 also contains DHEA. DHEA is a naturally occurring steroid the body uses as a building block to construct more testosterone.
Will Panthera Pharma Primal V 4000 Really Work
By supplementing your body's supply of testosterone, you turn your body into the ideal environment for using protein to build and repair muscle. Using Primal V 4000 in conjunction with a protein supplement will help you maximize its effect and achieve even more drastic results than you would from using just one or the other.
The problem is Primal V 4000 probably costs more than your protein supplement. For $50, Primal V 4000 is not the best priced testosterone booster we've seen. Combining its cost with the price of what you're already paying for a protein powder could make for a pretty expensive regimen of supplements.
Conclusion
If you're willing to pay the price, Primal V 4000 will really help you get more from your protein powder. We recommend finding something more affordable. We've seen several testosterone booster with similar ingredients at better prices. Some products we've seen even contain both protein and t-boosters. These might also be an attractive option.