OxyElite Protein Review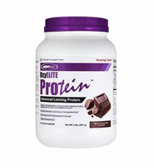 Consistently on the forefront of weight loss and muscle-building supplements, USPLabs has recently decided to venture into the protein market.
OxyElite Protein Powder is a supplement designed to both support your workout and help you lose weight. Unlike its fat burning counterpart, OxyElite Protein Powder doesn't contain any caffeine or stimulants.
Here's everything you need to know about OxyElite Protein Powder before you buy.
Who Makes the OxyElite Line?
If you didn't stumble across OxyElite Protein Powder when searching for a protein product, you probably sought it out for the OxyElite name. After all, OxyElite continues to be one of the biggest names in weight loss. But is it trustworthy?
The OxyElite brand is manufactured and sold by USPLabs, a Texas-based limited liability company. USPLabs has been in business since 2006 and currently holds an A+ rating with the Better Business Bureau. USPLabs is also BBB accredited, which means the company made a commitment to resolve any customer complaints.
In the past 3 years, 3 complaints have been filed against USPLabs. All have been resolved.
For a supplement company that's been in business for so long, this is a pretty impressive track record. Coupled with continuing sales for nearly all products in the Jack3d and OxyElite lines, USPLabs presents an impressive front.
What's the OxyElite Protein Powder Formula?
A protein powder is only as good as its building muscle ingredients. Here's what you can expect from OxyElite Protein Powder:
80% Whey Protein Concentrate. Made from proteins isolated from whey, whey protein contains several branched-chain amino acids (BCAAs). BCAAs are essential for muscle growth and development. They also increase insulin protection, which allows muscle cells to use circulating blood sugar as energy [1].
Conjugated Linoleic Acid (CLA). A group of chemicals in linoleic acid, CLA is said to improve immune function. It also triggers modest reductions in body fat deposits, while preserving lean muscle mass. These effects were observed in scientific studies involving CLA [2]. CLA is also non-stimulating, which means it won't affect the central nervous system.
Medium Chain Triglycrides (MCTs). Medium chain triglycerides, or MCTs, improve metabolism and digestion. MCTs burn fat, which allows for better muscle definition and body composition [3]. More muscle improves metabolism further, making MCTs the gift that keeps on giving.
Polydextrose. A soluble fiber derived from glucose, polydextrose suppresses appetite and helps your body use carbs more efficiently. When taken alongside a normal diet, polydextrose reduces the glycemic index of sugars and carbs to allow a sustained energy release. In a 2000 study, glucose's glycemic index decreased from 100 to 89 when taken with polydextrose [4].
Digestive Enzymes. The digestive enzymes in OxyElite Protein Powder are said to improve digestion and absorption, thus improving OxyElite Protein Powder's effectiveness. USPLabs hasn't specified which digestive enzymes will be included in this product, so it's difficult to judge their exact purpose.
I like that USPLabs chose to use whey to support muscle growth and other physical goals. This means users will get a steady flow of amino acids to muscle, something particularly difficult for dieters to attain with their restrictive eating patterns.
The weight loss ingredients are also looking good. Though it would be nice to see a little more information on ingredient quantity, this is a solid start.
I don't think OxyElite Protein Powder will be astonishingly effective, but this seems to be a good foundation for moderate fat loss and muscle growth support.
Taste and Available Flavors
OxyElite Protein Powder is currently available in two flavors:
• Milk Chocolate
• Vanilla Ice Cream
Both flavors mix well and have a rich, shake-like taste. This is one of the few protein powders that tastes just as good with water as it does with milk.
Is OxyElite Protein Powder Worth a Shot?
If OxyElite Protein Powder manages to live up to USPLabs' reputation, this will be a solid product to add to your weight loss/muscle building arsenal.
However, because the protein market is a new venture for USPLabs, it may be best to hold off and watch for customer reviews. This will give you a better idea as to OxyElite Protein Powders' effectiveness.
References
[1] Shimomura, Yoshiharu, Yuko Yamamoto, Gustavo Bajotto, Juichi Sato, Taro Murakami, Noriko Shimomura, Hisamine Kobayashi, and Kazunori Mawatari. 2006. Nutraceutical effects of branched-chain amino acids on skeletal muscle. The Journal of Nutrition: Vol. 136, Issue 2.
[2] Blankson, Henrietta, Jacob Stakkestad, Hans Fagertun, Erlin Thom, Jan Wadsetin, and Ola Gudmundsen. 2000. Conjugated linoleic acid reduces body fat mass in overweight and obese humans. The Journal of Nutrition: Vol. 143, Issue 2.
[3] Clegg, Miriam E. 2010. Medium-chain triglycerides are advantageous in promoting weight loss although not beneficial to exercise performance. International Journal of Food Sciences and Nutrition: Vol. 61, Issue 7.
[4] Jie, Zhong, Luo Bang-Yao, Xiang Ming-Jie, Liu Hai-Wei, Zhai Zu-Kang, Wang Ting-Song, and Stuart AS Craigh. 2000. Studies on the effects of polydextrose intake on physiologic functions in Chinese people. American Journal of Clinical Nutrition: Vol. 72, Issue 6.