OptiPro Protein Review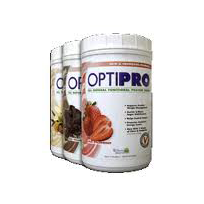 OptiPro Protein is an all-natural formula available in both soy and whey protein variations, and manufacturers would have you believe that this supplement will be great as both a meal replacement shake and a source of energy for both before and after your workout.
Advertisements are notorious for promoting OptiPro Protein as an ideal way to support body fat reduction, cardiovascular health and blood sugar stabilization, etc. Manufacturers even claim that OptiPro Protein will give you a good source of fiber and various other named and unnamed benefits.
But the question is, does OptiPro Protein actually work?
About OptiPro Protein
OptiPro Protein has a high 27g of protein in each blend, and it also has flaxseed meal for more fiber. With OptiPro Protein, you get choices in flavor as well as your type of protein, and only about 124 calories.
On the other hand, OptiPro Protein also contains a good amount of carbs that will actually inhibit the ability of the body to really get to that protein, so your body cannot properly absorb these proteins, and you'll probably end up storing the protein as fat rather than using it to build bigger, stronger muscles.
The Flavors
OptiPro Protein is available in 4 flavors including strawberry, vanilla, cocoa, and vanilla caramel. These flavors are fairly standard among protein powders, so I wasn't all that impressed with what OptiPro Protein had to offer.
The Price
OptiPro Protein can be purchased for about $49 for a 2 lb tub, making it fairly expensive for a protein supplement.
Advantages
Because OptiPro Protein contains so many carbs and proteins and fiber, it makes for a great way to suppress hunger in between meals, and a single scoop of the protein only contains about 135 calories – so you don't have to worry about overstepping your calorie count for the day.
Disadvantages
Unfortunately, OptiPro Protein does not contain any additional ingredients to help burn fat, build muscle, boost metabolism, or give you the edge you need to improve your athletic performance. Aside from the protein, OptiPro Protein falls short of giving you the body-building results you need.
Additionally, shakes such as this may seem like a possible meal low-calorie meal replacement, but because they don't fill up the stomach like fiber-rich fruits and vegetables, they often leave dieters feeling hungry after a short while. If you're constantly feeling the need to eat, then it will make it difficult for you to lose weight and keep it off.
Many consumers complained that Opti-Pro Protein would foam up and become difficult to drink, and because of the hard-to-digest protein, it often caused negative side effects such as stomach upset, bloating, cramping, gas, and diarrhea.
Conclusion
OptiPro Protein is not something that we would recommend, as the protein is low quality and it may cause negative side effects such as indigestion, bloating, cramping and gas. AAnd moreover, OptiPro Protein has way too many carbs for a good protein formula, so you would definitely be better off finding something else.