Optimum Nutrition Platinum Hydro Builder Review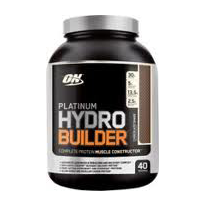 When we see a protein powder that comes from a reputable company like Optimum Nutrition, we can't help but assume that this product will be just as reputable.
When we did a little more research and found that Platinum Hydro Builder by Optimum Nutrition is a decent blend for a post-workout supplement, we weren't extremely surprised. Characteristics like these are what make Optimum Nutrition comparable to top protein powders like Myotein.
However, we thought we should investigate this protein powder a little further just to make sure it is as good of a product as its manufacturers are known for. So, we took a bit of a closer look and see if Platinum Hydro Builder is worth your time and cash.
About Optimum Nutrition Platinum Hydro Builder
Platinum Hydro Builder combines protein and creatine, with a pop of BCAA's, arginine, amino acids, and betaine, along with a tidy little enzyme blend to help your body fully assimilate all that nutritious stuff.
This protein powder is targeted specifically for muscle repair, which makes it a good thing to take after an intense workout.
The creatine will help you feel back on your game for your next strenuous activity, which is great for those who like to workout frequently and need to recover as quickly as possible.
This blend combines four forms of protein: whey isolate, egg, casein, and regular whey. Using different kinds of protein is a neat way to allow the body to assimilate the nutrients of protein at different times after consumption.
30 grams could normally be a little hard for the body to fully utilize.
This is where enzymes come into play, this blend includes an enzyme formula that has three different kinds of enzyme (and betaine, did we mention? So, actually four kinds of enzymes) that work to break down the nutrients involved and are better used, easily digested, and then ingested by the body.
BCAA's are an important element in repairing damaged muscles. Arginine works as a vasodilator that increase blood flow to muscles, delivering much needed fuel and oxygen to hurting muscles, shortening repair time.
Conclusion
Even though there might be competing products that have more grams of protein per serving, or ones that have fewer calories, we still think that there are some impressive sources of protein in Platinum Hydro Builder.
Since there is some research that shows your body can only absorb so many grams of protein at each serving, we think that Platinum Hydro Builder is a good alternative for those who are interested in boosting their protein but not using every serving of their protein powder each day.
However, if you are one of the many who are getting the adequate amounts of protein per serving every day, we suggest looking into Myotein or another protein powder that has fewer grams of protein per serving. For example, Myotein only has about 16 grams per serving, which is the highest amount that your body can easily handle on a daily basis.
If that does not suit you, it may be best to stick with the Platinum Hydro Builder.