Only Protein Review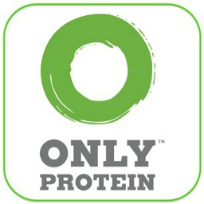 With images of people doing yoga, mountain biking, and other physical activities on its website, Only Protein advertises its products as part of a healthy, active lifestyle.
Focusing natural whey protein-based products, Only Protein is quickly making a name for itself.
I looked into Only Protein to find out more about the company and its products.
Who Is Only Protein?
Founded in 2010, Only Protein is a Draper, Utah-based health supplement company that develops whey protein-based products.[1][2]
The company currently has six employees and manufacturers its products in Portland, Oregon with packaging done in Utah.[2]
The company is not listed with the Better Business Bureau.[3] And, I wasn't able to find any consumer complaints about Only Protein.
The Products
Only Protein currently develops and sells two lines of product; a simple protein powder and a meal replacement. Both products come in stick packs and tubs. They also come in chocolate or vanilla flavors.
Regardless of which size and flavor you purchase, Only Protein claims the products provide the following health benefits:
• Support muscle feed
• Curb appetite
• No soy, gluten, or pesticides
• No sugar or chemical additives
• Hormone and antibiotic free
To achieve these results, Only Protein packed its products with multiple vitamins, nutrients, and amino acids. In addition to a proprietary whey protein blend, both product lines provide the enzymes protease and lactase to optimize protein breakdown and milk-sugar (lactose) digestion, respectively.[4][5]
Are These Products Safe?
Only Protein's products are all-natural and should be safe for most people. If you have concerns, talk with your physician before trying Only Protein.
How to Use
For both products, Only Protein advises mixing one serving with 4-6 ounces of water.
Also, for best results, the company advises using Meal Replacement for breakfast as it provides energy and boosts metabolism for the rest of the day.
Where to Buy and Pricing
Only Protein's products can be found in approximately 350 brick & mortar GNC stores across North America.
You can also purchase products directly from Only Protein at OnlyProtein.com or from various online vendors.
Protein Powder comes in single serving packs (15 sticks) or 1.25 lb. tubs that generally sell for approximately $35 to $40.
Meal Replacements products also come in 15-stick packs or 1.25 lb. tubs and sell for $35 to $40.
Is There A Guarantee?
Only Protein does offer a guarantee on its products but it's limited to unopened products and includes a 15% restocking fee.[7]
Should You Try Only Protein
Only Protein appears to be a well-run company with solid products. However, there are some issues I have with the company and product line that stops me from recommending its products.
For example, it's difficult to determine just how effective the products are. Also, objective user reviews for Only Protein's products are lacking.
For these reasons, I personally would wait on trying Only Protein's products until there are more reviews available. That being said, Only Protein's products look good and may work for you.
References
[1] Utah Division of Corporations and Commercial Code. "Business Search – Only Protein, LLC." Accessed 7.09.2013. https://secure.utah.gov/bes/action/details?entity=7919429-0160
[2] Radio business show. "Zions Bank speaking on business – Only Protein." Accessed 7.09.2013. http://www.zionsbancorporation.com/zionsbank/fb/fb20130625.html
[3] Better Business Bureau. "Search for: Only Protein." Accessed 7.09.2013. http://www.bbb.org/us/Find-Business-Reviews/name/only+protein/Draper-UT/l
[4] Britannica.com. "Proteolytic Enzyme." Accessed 7.09.2013. http://www.britannica.com/EBchecked/topic/479818/proteolytic-enzyme
[5] U.S. National Library of Medicine – Genetics Home Reference. "LCT." Accessed 7.09.2013. http://ghr.nlm.nih.gov/gene/LCT
[6] WebMD.com. "Lactase Oral Uses." Accessed 7.09.2013. Information on lactase
[7] Only Protein. "Return Policy." Accessed 7.09.2013. https://onlyprotein.com/store/index.php/returns/