Oh Yeah! Total Protein System Review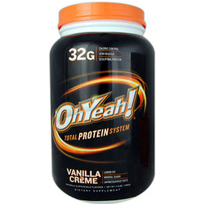 Oh Yeah! Total Protein System works towards providing the body with 32 absorbable grams of protein.
It attempts to accomplish this goal by using three forms of protein in this matrix, each working in different ways in the system to boost their assimilation.
There are hundreds (if not thousands) of protein blends on the market right now, each touting their uniqueness and special qualities.
We are here to investigate and see if Oh Yeah! has anything new to offer. Their concept is nothing new, we've seen it many times in the past. So will Oh Yeah! hold our attention?
Oh Yeah! Total Protein System Ingredients
Before & After Exercise: Whey isolates are important to use before and after exercise. Containing an abundant natural source of quick-digesting branch chain amino acids, a serving of Oh Yeah! is essential to have thirty minutes before and thirty minutes after exercise. The unique protein blend will help you power through your training, while providing lean muscle and recovery support.
Before Bedtime: Casein works as a time released protein that works through the night, preventing breakdown of muscle while you sleep.
Experience More Benefits: Whey protein is great to use between meals to stave off hunger and curb overeating during regular meals. Can also be use to boost the nutrient density of food by adding to yogurt, oatmeal and other recipes.
Consumer Reviews
Most customers are saying a lot of wonderful things about Oh Yeah!. It's prevalent that the product tastes really good and is easily mixed into smoothies, oatmeal, and other food. That is a definite bonus on our book.
Conclusion
There are a lot more components involved in a good supplement than just taste and amiability. It's important to look at the ingredients, and there seem to be a lot of filler ingredients in this blend, with an over-simplistic approach to protein intake.
Ingredients like: Maltodextrin, Mono- And Diglycerides, Dipotassium Phosphate, Sodium Silicoaluminate, Disodium Phosphate, Silicon Dioxide, Artificial Flavors, Salt, Sucralose, Acesulfame Potassium are NOT healthy ingredients. So…now you can make a more educated decision.