Nutricost Whey Protein Isolate Review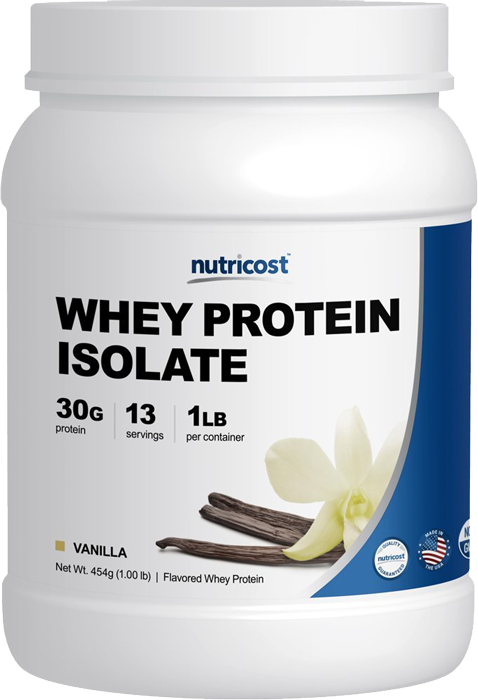 Nutricost is relatively new to the supplement game, but they have hit the markets with a solid blast of new products that give traditional sites a run for their money.
This particular product, the Whey Protein Isolate, is a new industry favorite. It maintains the quality users have grown to expect from Nutricost while ensuring that it meets the needs of the supplement itself.
Overall I enjoyed the supplement, which made it a great study to review. If you are unsure about what to look for in a supplement, or in this one specifically, read on to understand why and how it works.
Click here to learn more about Nutricost's Whey Protein Isolate
First Impression of Nutricost's Whey Protein Isolate
My first impression is (obviously) with the taste, a lot of protein powder companies mess this part up in the name of making a supplement that fills all your other nutritional needs. For extreme bodybuilders or powerlifters this is no biggie, but for the rest of the world having something that tastes good enough to drink it at least twice a day is important.
And to be honest you're not sacrificing much in the name of a great taste. The basic ingredients used to enhance the taste are artificial flavoring (the chocolate or vanilla flavoring), and sucralose (sugar substitute). Both of which, even in high doses, have minimal (if any) impact on overall health.
The only issue I found was with mixing it, it did take a little bit of sorcery to get it to the right consistency. But I'll be sure to include a tip later on on how to get it just right.
Digging Deeper into the Myotein Formula
In this isolate you only have the basic necessities of ingredients and protein takes up nearly 90% of the overall composition. Carbs take up 2 grams and fat takes up 1 gram, which is better than is expected in most protein powders, even isolates!
So what is Nutricost's Whey Protein Isolate formula?
Whey Protein Isolate: Whey protein isolate is the purest form of whey protein available on the market. And this says something about the product when it is your number one ingredient in an isolate. Using an isolate means that there are no stomach cramps or bloating, but you still get all the benefits of a whey protein. Isolates have been proven time and time again to improve lean muscle building over a period of time, and athletes who use isolates are faster to recover and faster to improve overall strength and endurance.
Artificial Flavor: Artificial flavoring is present in most products, this is mainly the chocolate and vanilla ice cream flavors you get in Nutricost's Whey Protein Isolate. Using artificial flavoring rather than a vanilla or cocoa ingredient means that you get a little better preservation, and thus a little more time to actually enjoy the product.
Sodium Chloride: Sodium Chloride is just the chemical name for salt, it the number one product used for preservation in most supplements. It is an entirely natural additive and also helps your body absorb other nutrients. In this case it is working as a preservative and a way to help your body absorb the protein.
What Else is in Nutricost's Whey Protein Isolate?
Nutricost's Whey Protein Isolate also includes the following ingredients:
Potassium Chloride: Potassium chloride is used typically the same way as sodium chloride, in this case it not only helps the absorption of nutrients but improves overall flavor. Potassium chloride is often needed on a regular basis to improve overall bodily function and is a naturally occurring agent in many foods.
Sucralose: Sucralose is another artificial additive, it is used to replace sugar in this product. It takes up no calories but improves flavoring and enhances the cocoa and vanilla tastes.
Will It Really Work?
Yes this product will work. Unlike many of it's competitors the one complaint it never seems to get is that consumers didn't see any improvements. It does require the proper stimuli to work properly, so it is imperative that you get to the gym regularly and maintain a proper diet over the course of taking this. Without those habits in place this can result in minor fat gain rather than muscle mass gain.
In order for muscle to grow the muscle tissues need to be torn and damaged and then supplemented with more than enough protein to encourage protein synthesis. One scoop can cover 30g of your overall intake which makes it a perfect post workout product, it gives your body what it needs to synthesize protein and build muscle quickly.
What Do Users Say?
Users are typically happy with the results they see. Many claim to see legitimate results within a few weeks of taking this supplement, which helps it stand above competitors. This means that within about a tub of taking this product (supposing you purchase the 5 lb tub) you will notice results.
The one complaint I have noticed with this product is that it's too sweet. Many don't like the added sucralose and prefer real cocoa or vanilla. This part really is personal preference, and for every bad review of it's flavor there are two more saying that they loved the flavor. If this is a personal concern, Nutricost offers a 100% Money Back Guarantee as long as you return it within 90 days.
And one final note is that almost every review comments on how well it mixes, this is in part to the use of sodium and potassium. They help the protein dissolve easier in water and milk, and this also helps you digest it easier. If you've ever tried a concentrate you probably noticed the difficulty in getting it to mix properly, this isn't something you will see with this isolate.
Is Nutricost's Whey Protein Isolate Safe?
This is one of the safest products you will find, even for those who are lactose intolerant. All of the added substances are natural or safe even in relatively high doses, but the only ingredient in a high dose is the protein.
One of the benefits of getting an isolate is that even if you are heavily lactose intolerant you will not likely notice any negative impacts. Being an isolate it is almost entirely devoid of lactose, fat, or anything that will cause problems. And Nutricost feels so secure in this that they offer the 90 day 100% Money Back Guarantee, so if you do notice anything unpleasant you will be taken care of.
What to Know if You're interested in Buying Nutricost's Whey Protein Isolate
I've already pointed this out several times, but this product does have a fantastic guarantee. If for any reason you're unhappy you can return it, no questions asked. This does only extend to one opened product and as many unopened bottles as you want to return. You can't return multiple opened bottles basically.
Also to note is that this is sold in several places all over the internet, but the cheapest place to get it is on Esupplements.com for $15.95 (for the 1lb). The one pound container is great for testing it and seeing if you like the taste, seeing if you like the way it mixes, and making sure that you don't feel gross when you take it.
BUT if you are looking for the best deal, you get completely free shipping on the 5lb tub, so you're getting an extra 4 lbs for less than $30 (the 2 lb tub is $30+shipping). And you're still getting the 100% Money Back Guarantee.
Tips for Best Results
The best thing you can do to make sure this product works for you is to maintain a healthy and active lifestyle. Eating right and exercising regularly is the only way this can even be pushed to work, otherwise it won't convert the way you want it to.
The best way I have found for mixing it is to add a little warm water with it at the beginning and then add in the cold water and a bit of ice. If you are planning to add it to a smoothy then I recommend mixing it with milk or water first and then adding it in with your other ingredients. This helps keep it from foaming and makes sure you're getting the most out of the protein powder without getting too full from a thick substance.
Final Thoughts
This isn't your typical protein powder, this was created to be a humble product with only the basics of what you need to build lean muscle. Nothing in here will make you sick, but everything in here will require that you work to see real improvement. There's not much more you can ask from a protein powder.
Nutricost seems like a pretty sound company even though they are new, and they obviously know the value of their products or they wouldn't offer the insane refund policy. And not to mention, this is a really really cheap whey isolate. Many other products on the market with a similar, or even worse, ingredient makeup are much more expensive.