Nutricost Whey Concentrate Review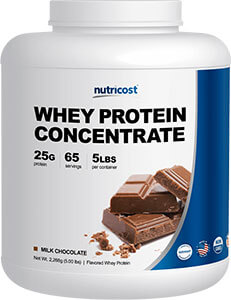 Nutricost's protein darling is the Whey Protein Concentrate. It comes without all the bells and whistles of its competitors, which provides an excellent advantage because it is so clean. This product is a continuously top 3 supplement in most review sites, and holds that name for a reason.
Click here to learn more about Whey Protein Concentrate at Nutricost.com
This product is a basic and easy as it gets. The only additives are for preservation, stimulating electrolytes in your system, and maintaining a solid flavor that mixes well with others. Any bodybuilder looking for something with little to no thought involved will appreciate the fact that while this product isn't highly endorsed from celebrities it sustains a solid standing as a top supplement.
This product review should give you a good idea about what you can expect from Nutricost and their top protein supplement. I plan to cover taste, formula, and effectivity to give you a clear understanding of what you want from this product or any others.
First Impression of Nutricost Whey Protein Concentrate
As I've stated before, this product is a clean and easy go-to supplement. Protein takes up 71% of the overall product, fat and carbs are relatively low, while not entirely dissipated, which is what you should expect from any concentrated form of whey protein.
This product does contain lactose because it is a dairy supplement, many people (myself included) will mix up concentrate with isolate. Isolate is a better option for our lactose-intolerant friends because while it still comes from dairy, it contains less than 1% lactose.
But if lactose isn't a concern, this product is an easy way to bulk or engage in a slow clean cut.
On overall taste, most reviews accept this product for what it is, and claim that it has an "OK, borderline GOOD taste." Taste is important to purchasing a supplement, but this product was also created with the intent of mixing well with other.
Which most reviewers agree it does well. This is due, in part to the lack of overwhelming flavor from either of the classic choices.
If you are choosing this product you are choosing it because it not only does it's job well, without any scary ingredients, but also because you plan to include it in a serious pre and post workout mix.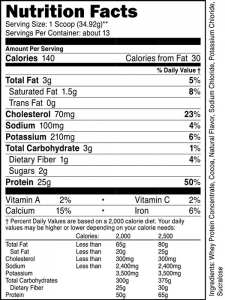 Digging Deeper into the Nutricost Whey Protein Concentrate Formula
The science here is pretty clear, for anyone watching macronutrients this product is 72% protein with only 3 grams of fat and 3 grams of carbs. The ingredients are all basic and easy to understand as well.
Whey Protein Concentrate: (i.e. the main reason you're buying this product) is a protein basic supplement, it is the concentration of the excess liquid in dairy products. For example, sweaty cheese will produce whey protein in a .03% to 98% water ratio. Concentrate is that liquid dried and compiled with additional flavors and mixers to make this an easily digestible (and tasty) product. It is also a "must-have" in any protein or bulking supplement because of it's muscle building properties.
Cocoa: Cocoa does this product a big favor because it adds flavor to an otherwise extremely bitter supplement. Whey protein in any form, without additional flavoring, is quite gross. Even unflavored stuff has things in it to ensure that you don't notice the taste as well. Cocoa is also a great additive to this because of it's low fat and carb content.
Natural Flavors: a simple added ingredient to enhance the cocoa flavor and help cover the bitter protein taste. This is one of the most common ingredients in any food.
Sodium Chloride: this is the preservation ingredient. There isn't really a right or wrong way to preserve protein, but this is a simpler way to do it. Sodium chloride is just salt that's been added to insure your protein won't go bad while you're getting through it. It also takes up less than 2400 mg of the entire package.
Potassium Chloride: This is the awesome (and totally necessary) electrolyte ingredient, this is necessary especially while you are working out or drinking a ton of water. This will ensure that your body keeps functioning the way it needs to, as long as you're getting enough of them. This won't make up the entirety of the amount of electrolytes you need per day, but it's a great way to add it.
Sucralose: this is artificial sugar, and at extreme levels it can be very bad for you. In this particular supplement it takes up very little of this substance, but still benefits the taste.
Will It Really Work?
Thanks to the ingenious simplicity of this product, it is guaranteed to work. The only exception would be if you somehow really messed up. Which is really actually very difficult to do. The point of taking a concentrate is to promote the growth of lean tissue mass without the additional calories from fat and carbs.
This is a slow digesting whey protein, which is great for post workout and even better for right before bed, but not as great right before a workout. Definitely a decent post-workout meal replacement or protein additive, and the fact that it mixes well with other ingredients helps keep it tasty and diverse.
What Do Users Say?
Most people agreed that the simplicity of this product was the best part and recommend it as a post-workout or before bed supplement. They also loved the price, it's difficult to find good protein that works well for this price and many, solely for that, would purchase again. The only real complaint is about the taste, and it doesn't seem to hold any back because they found things they enjoyed mixing it with to give a better taste.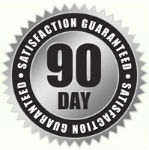 What to Know if You're interested in Buying Nutricost's Whey Concentrate
This product is available in 1 lb, 2 lbs, and 5 lbs, the benefit of getting the 5 lb product is that shipping is actually cheaper on Amazon. There are several other sites where you can buy this product, and the prices stay about the same as you see on Amazon, but Nutricost and Esupplements both have it for about 1$ more than Amazon.
Although the best thing with buying from Nutricost or Essupplements is that there is a 90 day 100% money back guarantee in case you decide it's not working for you. They promise to refund everything except the shipping and handling and have a reduced price shipping and handling for all returns.
Tips for Best Results
This product doesn't work for couch potatoes. In order to get results from any supplement you need a base healthy lifestyle, and if you want to see legitimate bodybuilder gains you need a progressive resistance training routine. Whey concentrate can stimulate faster muscle growth following intense gym sessions due to its recovery properties, but without it the most this product will do is add unwanted fat growth.
I recommend taking 1-2 scoops in the morning, right before bed, and/or following a workout. Keeping the habit of drinking this is important so you should still drink it in your off days, twice a day.
Final Thoughts
This product deserves this spot in the top 10, there's nothing scary or complicated and it works well mixed with just about anything (within reason of course). Taking this supplement does require you work to get the best results, but that's not unusual. You are getting quality with this product because of its straightforward formula coupled with an excellent price.
Gains haven't always been as easy as this, and Nutricost really does prove that shiny wrapping paper doesn't always mean a top product.