Nutrex Mass Xxplosion Review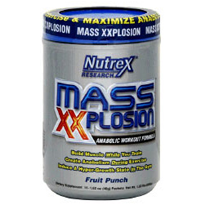 Mass Xxplosion is an interesting product that blurs the line between between a protein powder and a pre-workout formula.
As such, it aims to supply the materials your body needs to build muscles as well as the tools to use those materials. Mass Xxplosion hopes to provide big gains in muscle growth, surging strength, and pulsating vascularity.
So far we're intrigued, but does Mass Xxplosion have ingredients to make it a winner?
About Nutrex Mass Xxplosion
The range of benefits Mass Xxplosion can offer is probably its biggest strength. It contains 6 grams of all the branched chain amino acids. That is plenty to spark protein synthesis to start building muscle.
It also uses 3 grams of Creatine Monohydrate and Creatine Ethyl Ester Di-Chloride. This is not the most creatine we've seen packed into a supplement, but its Ethyle Ester molecular add on will help the body absorb it quickly and make fast use of it. Creatine is the perfect supplement for anaerobic workouts as it helps increase strength to help you lift heavier weights for bigger gains.
For pumps, Mass Xxplosion contains a gram of Arginine Alpha-Ketoglutarate and Arginine Ethyl Ester Di-Chloride. As any pump should have, arginine is the essential ingredient for boosting nitric oxide levels inside the body. NO gas helps blast open veins to dramatically enhance blood flow. More blood going to your muscles will deliver the nutrients they need to perform and recover optimally.
Will Nutrex Mass Xxplosion Really Work?
Mass Xxplosion only has 10 grams of protein. That's not even half of what you need to fuel serious gains. It's also very high in carbohydrates. Sugars like these help creatine performance but they can also get you fat.
Aside from those, Mass Xxplosion doesn't really provide strong enough concentrations of most of its ingredients. 3 grams of creatine and 1 gram of arginine are lackluster compared to a lot of other supplements we've seen.
Conclusion
Overall, Mass Xxplosion tries to wear too many hats. As it tries to provide so many benefits, it ends up falling apart and collapsing under its own weight. With the ingredients spread so thin to make room for each other, we doubt Mass Xxplosion will the most effective pre-workout you can find.