NutraFusion PlantFusion Review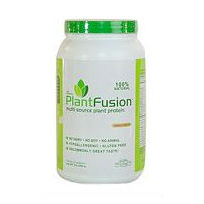 If you're vegan, vegetarian, or have food allergies, finding a natural protein powder that you can use is a big challenge. Then, finding one that actually works is an even bigger challenge.
NutraFusion PlantFusion is 100% natural, hypoallergenic; and free of dairy, soy, animal products, and gluten.
It is supposed to provide you with a safe, natural source of protein that will support lean muscle mass, improve muscle growth, and reduce recovery time.
Will PlantFusion be effective? Can it deliver the quality users are used to getting from top products like Myotein? Take a look at my research and decide for yourself…
What's in the Formula?
PlantFusion has a 21 gram blend of protein derived from these sources:
• Pea protein isolate
• Artichoke protein
• Organic sprouted amaranth powder
• Organic sprouted quinoa powder
• BCAAs: L-isoleucine, l-leucine, l-valine (4.5 grams)
• L-glutamine (3.35 grams)
I couldn't find any research that would show where pea, artichoke, amaranth, and quinoa proteins ranked against other types of protein. However, they seem to be good sources and they are easily-digestible. In fact, they received a perfect score on the Protein Digestibility Corrected Amino Acid Score.
BCAAs and l-glutamine are important amino acids that your body uses as it builds and repairs muscles. Glutamine is one of the best ingredients for preserving lean muscle mass and preventing catabolism. It is frequently found in other high-quality protein powders like Myotein. Click here to learn more about BCAAs.
PlantFusion also includes enzymes from natural sources such as pineapple, which studies have shown aid the body in protein digestion and the breakdown of sugars in the digestive tract.
What's in Each Serving?
PlantFusion only has 120 calories per serving. It has 2 grams of fat, 4 grams of carbohydrates, and 4 grams of sugar (from Fructose); but it doesn't have any cholesterol. With 21 grams of protein, you'll be getting 42% of your Daily Value in every serving.
Each serving (one scoop) has a total of 30 grams.
How Do Users Like the Taste?
PlantFusion comes in 4 flavors: Vanilla Bean, Chocolate, Berry, and Unflavored. Most users seem to like these flavors, but they did find that it was a little difficult to mix the protein powder by hand. I recommend adding 10-12 ounces of your liquid of choice to a blender and then adding one scoop of protein powder. It should mix better this way.
PlantFusion mixes well with water, plant-derived milk products, and smoothies.
Is PlantFusion Safe?
PlantFusion just might be the safest protein powder on the market. It delivers quality through its ingredients, which is also the case with Myotein; but PlantFusion can be used by people who are allergic to milk, vegetarian, or vegan. Because it uses whey protein, Myotein–although generally safe–is not a safe option for those people.
What's the Best Way to Use PlantFusion?
I recommend taking 1-2 scoops of PlantFusion a day, but no more than that. One scoop gives you 42% of your Daily Value and 2 scoops gives you 84%. Three or more scoops will give your body more protein than it can use.
If you take 2 scoops a day, it would be best to take 1 scoop at a time; for example, 1 in the morning and 1 in the afternoon. This makes it easier for your body to digest and absorb the protein.
How Much Does It Cost?
A 2 lb. container of PlantFusion costs about $22-$35 when you buy it online. To find an online retailer, search for the product using the Google Shopping tab.
You can't buy this product on the official website, but they do show you nearby stores that sell it. All you have to do is type in your zip code.
Final Thoughts
If you're vegan, vegetarian, or have allergies, your options for a good protein powder are limited. However, I think PlantFusion is a high-quality option that should give you the results you're looking for in a natural protein powder. Users seem to like it and it's more affordable than high-quality whey protein powders. For example, the #1 whey protein powder Myotein costs around $40-$60.
I recommend buying PlantFusion; preferably from a retailer who offers a satisfaction guarantee or a return policy.
If you've tried PlantFusion before, please tell me what you think of it. Does it work? Is it worth buying? Are there better options for vegans and vegetarians?