NOX Edge Review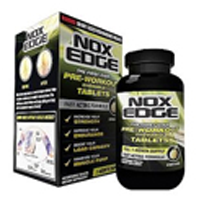 Currently promoted by Mike "the Situation" Sorrentino of the Jersery Shore, NOx Edge has been causing quite a stir on the supplement scene.
But should it be? One of the first pre-workout chewables we've seen, this product is formulated from several amino acids for a very impressive creatine blend.
NOx Edge also includes a few fat burners and a testosterone booster to further increase its effect. Though this does a bit more than Myotein and other types of protein powders, it may not have as much effect.
But while it sounds great, we're always wary of celebrity endorsed products. Is the Situation being honest with us?
About NOX Edge
NOx Edge's creatine blend looks solid. It contains several great amino acids to promote protein synthesis so you can rebuild and add on muscle quickly and effectively.
Crucially, it contains l-arginine to produce the nitric oxide by-product that dilates veins and leads to that feeling of being pumped. Nitric Oxide also lets more blood reach the muscles so the rest of the products proteins can reach the muscles faster.
Besides amino acids, NOx Edge includes a dose of Tribulus Terrestris extract.
This is one of the best testosterone boosters on the market. Heightened levels of testosterone helps invigorate workout performance and build lean muscle. It's a great inclusion for a muscle building regimen. So as far as muscle building goes, this product truly holds its own.
Will NOX Edge Really Work?
Though NOx Edge's muscle formula might be effective it has some extra add-ons that aren't going to increase the products effects by very much. We hate fillers and NOx Edge has it's fair share of them.
In an effort to give their product some fat burning qualities, NOx Edge included 200mg dose of Caffeine Anhydrous. Unfortunately, doses of caffeine under 400mg are not concentrated enough to push the metabolism into a thermogenic reaction to begin burning fat.
NOx Edge also contains a sprinkle of Guarana extract. While this ingredient has been tied to suppress appetite, it has only proven to do so when combined with Yerba Mate, and Damiana. Without them, this ingredient becomes just another filler.
Conclusion
NOx Edge does offer a very convincing muscle building formula. Now if only they could get the fat burning dosages right and this whole product would be phenomenal. But besides falling short on the fat fighting elements, NOx Edge is severely overpriced.
You could honestly get the same or better results with products almost half the price of this one. Myotein, for example, provides much better quality ingredients and comes at a lower price. Sadly, this is usually the case with celebrity endorsed products.
For the exorbitant amounts of money NOx Edge pays Mike Sorrentino, their product's price must reflect some kind of markup to cover that cost. In essence, the customer is paying an extra $20 bucks because it has a picture of the Situation on the bottle. It really isn't fair to consumers. We recommend finding a more cost efficient product.
As a result, we recommend looking into Myotein.