NOW Waxy Maize Review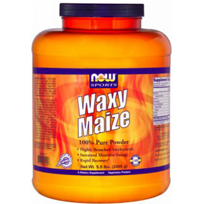 NOW Waxy Maize works as a long-term energy sustaining supplement.
Converted from corn starch, amylopectin is absorbed into muscle tissue then converted into glycogen, used by the body as energy.
Will NOW Waxy Maize actually work? We need to look at the ingredients and consumer reviews to find out.
About NOW Waxy Maize
This supplement is designed for slow-release energy throughout the day, ideal for endurance athletes who need long-term energy. Unlike creatine, which works in fast-bursts of ATP released energy, amylopectin is slowly absorbed into muscle tissue throughout the day.
The great thing about this product is that its stimulant free, vegetarian, and GMO-free. It's a great additive supplement for athletes of any venue, and can be combined with any other pre or post workout supplement without risk of addiction, withdrawal, or crashes in energy.
Manufacturers recommend stacking NOW Waxy Mass alongside this product so you can get maximum benefits. Such products would include beta-alanine, creatine, and l-arginine supplements – all of which are great tools for building muscle.
The Price
Waxy Maize is a well known supplement and is available through a wide variety of supplement retailers including amazon.com and bodybuilding.com. You can buy NOW Foods Waxy Maize powder for about $32 for a 5 lb., making it one of the most affordable sources of protein in the industry.
However, consumers should be aware that you cannot buy this product directly from the manufacturers. Instead you have to go through various retailers and sellers, and not all of them are reliable nor do they back their supplements with a money-back guarantee. If you decide to buy this protein powder, and it doesn't work for you, you'll be stuck with a product you can't return.
The Taste
There are very few consumer reviews associated with NOW Waxy Maize, so it's difficult to tell if the taste is tolerable or if it was simply one or two people who liked it. One consumer mentioned that "some people don't like the taste, but I like it with a little cranberry juice."
The Manufacturers
I've rarely been more impressed with a supplement manufacturer than I have been with NOW Foods an NOW Sports. Unlike other manufacturers who cut corners in order to make a profit, NOW is dedicated to ensuring that its customers get a safe and natural formula.
NOW Waxy Maize is one of their many vegetarian-friendly products that does not use potentially allergenic ingredients such as milk, yeast, wheat, soy, eggs, or shellfish, and as an added bonus, there are no extra sugars or preservatives in this formula, so you don't have to worry about gaining more fat than actual muscle.
Conclusion
We would especially recommend this product for athletes who are in need of long-term energy and endurance. You aren't going to get the intense bursts of energy that creatine or stimulants are capable of providing, but you will get a sustenance of energy that will last the entire day through.
This works because amylopectin is slow-absorbing, and glycogen is able to re-synthesize again and again.