MuscleTech Nitro-Tech Pro Series Review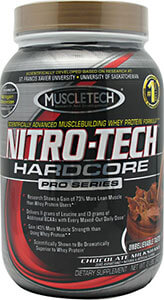 Coming from one of the biggest names in supplementing, MuscleTech Nitro-Tech Pro Series is supposed to be a scientifically-advanced whey protein supplement.
How is Nitro-Tech Pro Series scientifically-advanced? It may also be due to the fact that this protein powder has been tested! I've seen tested ingredients, but rarely do manufacturers go so far as to test the product as a whole.
So, what does the research say? Is Nitro-Tech Pro Series really as advanced as MuscleTech claims it is? Should you try it?
The Company
MuscleTech is well-known for producing high-quality workout supplements and even some weight loss products. Nitro-Tech Pro Series was their #1 protein product, but recently, the company released a new line of supplements and Nitro-Tech Whey Isolate+ Lean Muscle Builder became the featured product. You can still find Nitro-Tech Pro Series on the official website.
I like the MuscleTech official website because of how much information it offers about each product. You won't find a lot of information about the company, but I do know they've won and been nominated for dozens of supplementing awards.
The Ingredients
The protein used in this formula is whey protein concentrate, partially-hydrolyzed whey protein concentrate, and hyper-pure whey protein isolate. These are two of the most popular types of whey protein used. They are fast-absorbing–so you get energy and results quickly–and high quality. There are 25 grams of these proteins in each serving of Nitro-Tech Pro Series, which is a great dose.
Creatine monohydrate is used to increase ATP synthesis. This directly increases the amount of energy your muscles have; giving you more endurance and strength. Creatine is one of the best ingredients for increasing strength and building mass.
There are dozens of amino acids in Nitro-Tech Pro Series and each one plays a unique role. But in general, their job is to help your muscles grow faster; to promote protein synthesis; and to preserve muscle mass. There are 24 grams of branched-chained amino acids in Nitro-Tech Pro Series.
The Research
In a six-week, double-blind study involving 36 test subjects with at least three years of weight-training experience; subjects who used the core formula in Nitro-Tech Hardcore Pro Series packed on an astounding 73% more lean muscle than subjects using whey protein.
In the same study, subjects using the core formula in Nitro-Tech Pro Series increased their bench press by 143% more than subjects using whey protein.
The Supplement Facts
• 130 calories
• 1.5 g of fat
• 65 mg of cholesterol
• 3 grams of carbs
• 3 g of sugar
Nitro-Tech Pro Series is lower in calories, fat, and carbs than the majority of protein powders I've seen. It's also high in other important nutrients like vitamin B6, vitamin E, and folic acid.
Flavors and Taste
Nitro-Tech Pro Series comes in 6 flavors: Banana Cream, Chocolate Milkshake, Cookies & Cream, Strawberry Banana, Strawberry Milkshake, and Vanilla. Users rate the Strawberry Milkshake and Strawberry Banana flavors the highest.
Although the majority of users said Nitro-Tech Pro Series tastes fine and mixes well, some users said it didn't mix well, didn't taste well, and was hard to swallow.
From what I read in reviews, it seems you'll get the best results by mixing every scoop with at least 6 ounces of water or milk in a blender.
How to Use Nitro-Tech Pro Series
If you want 100% of your Daily Value of protein from Nitro-Tech Pro Series, I recommend taking 2 scoops a day; preferably one at a time. Because it uses fast-absorbing protein, the best time to take this product is in the morning or after your workout.
Since it contains creatine, Nitro-Tech Pro Series would be a great product for athletes and bodybuilders. It's probably not the best product for people who want to lose weight.
Is Nitro-Tech Pro Series Safe?
All the ingredients in Nitro-Tech Pro Series are considered safe, so it should be a safe product. I'm not sure how much creatine is used, but if it's a large amount, there is a chance that you could experience some bloating or stomach upset at first. If these side effects occur, they shouldn't last long.
The manufacturer doesn't warn about any side effects on the label, but they do warn about choking. If you don't take Nitro-Tech Pro Series with enough fluid, it could swell and block your throat.
Buying Nitro-Tech Pro Series
You can buy Nitro-Tech Pro Series in a 2 lb. container or a 4 lb. container. It's not sold on the official website, but they do give you a list of retailers who sell it. Some of these are GNC, Bodybuilding.com, and The Vitamin Shoppe. I also found Nitro-Tech Pro Series listed on Supplementing.com for $27.99 (2 lbs.) or $49.85 (4 lbs.). These prices are similar to what you'll find on other retail sites.
Unless you buy Nitro-Tech Pro Series in-stores, you may not find an online retailer who issues refunds once the product has been opened or used.
Conclusion
I like the advanced formula of Nitro-Tech Pro Series. It has great protein and several important amino acids. I'm also very impressed that the Nitro-Tech Pro Series formula is backed by research. I think it should be a great product for hardcore athletes and bodybuilders. If you're looking for a protein powder to use for weight loss, I recommend looking at Myotein instead of Nitro-Tech Pro Series.
For the quality and results it offers, I think Nitro-Tech Pro Series has a competitive price and it should be a good value. If you can purchase it from a retailer who offers a satisfaction guarantee, I recommend doing that, so you can try it risk free.
If you've tried Nitro-Tech Pro Series, please share your thoughts. Do you have any suggestions? Do you like it?